jonbath
Member since Jul 18, 2006

O+
Male / 51
Saskatoon , Saskatchewan
Block user
Supported Regions

Blackstrap Provincial Park
via
SSTC

Blackstrap Provincial Park
via
SSTC
Recent
Nov 5, 2023 at 13:54
Nov 5, 2023
Nov 5, 2023 at 13:42
Nov 5, 2023
Selling
Nov 5, 2023 at 13:41
Nov 5, 2023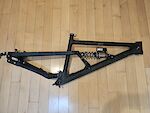 $2700 CAD
This is a size Long Geometron, which is the smallest size they make. But as it still has a 470mm reach I've listed it as a Medium (and would be a large from some brands). I'm 5'8" and could run a 180mm dropper with room to spare. I'm really on the fence about selling this frame as I absolutely love it. Purchased in August 2021 directly from Mojo in the UK. Ridden 2 seasons, but our seasons only run from April to October, so really only one year of use. Mostly used in Saskatchewan, where it is completely overkill, with 4 bike park days and about 10 other days in BC and Sedona. For such a big bike it pedals great -- did Frisby Ridge in Revelstoke and 7 Summits in Rossland on back to back days. But it really is a lot of bike for our local trails so I end up riding a short travel bike more. Would love to put a 180mm dual crown on it and just use it for park and shuttle, but that realistically is only 3-5 days a year for this 50 year old. I've tried to take the most unflattering pictures possible so what you see is what you get. Just a few minor scratches in the anodizing that could be touched up with a sharpie. I had the chainstay covered in mastic so it is very clean. I think it has been ridden in the wet once (ironically in the desert) so the inside of the rear triangle is in great shape. The down tube is covered in a heat molded piece of Kydex held on with foam tape (installed when frame was brand new and practically invisible from more than a few feet away) to prevent shuttle and rock damage. Most of the marks you see in the pictures are just where water dried after I washed it. Comes with the EXT Storia and 2 springs (350 and 375 - for 150-160 lbs) which has been rebuilt once and not ridden much since. Hope headset and seat clamp. 33 and 41 chainstay mutators (short and medium). 3.5, 6.5 and 10 mm seat stay mutators -- I rode it both full 29 and mullet. 3 spare derailleur hangers and a spare rear axle (one of the hangers, the spare axle, and the 33 mutators are from my previous Geometron G15 that met an untimely death so they are definitely used). Little frame bag I sewed that goes down by the bottom bracket. Some other spare parts. Custom brown Geo Metro stickers in tribute to the greatest car ever. I think $2700 CAD is very fair considering a new one, which is identical in every way, is over $5k. At today's exchange rate $2700 CAD = $2000 USD. From past experience shipping a frame is about $100 in Canada and $200ish to the US (depends on state). Will come in factory box. And if you don't want the shock we can talk (it's nice, but I'm sure a $200 used Marzocchi coil would be 95% as nice). I also have lots of other parts if you need anything (including a 29" 170mm Marzocchi Z1 coil with new seals and Medium and Firm springs - perfect on this bike). Shipping a complete is too expensive, but anything other than wheels will fit in the frame box so won't be extra shipping. Feel free to ask questions.
Selling
Sep 24, 2023 at 16:31
Sep 24, 2023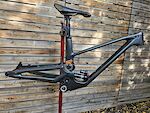 $1700 CAD
2021 Medium Forbidden Druid. One of several bikes so hasn't seen hard use (no bike park or shuttles). Ride Wrapped since new -- the wrap is getting beat up in places but seems to have been doing its job and the paint underneath looks good. I thought about taking it off to make the bike look new but that seems wasteful given the wrap still is 99%. I tried to take pictures of the worst spots. I pulled the frame all apart and gave everything a thorough cleaning and going-over. Currently set up with a Cascade Components link (ver. B1) and the Ziggy link to make it mullet. You get a little extra travel and it is more progressive. Also comes with stock linkage and 29er link. Has a North Shore Billet stainless steel idler pulley and derailleur hanger. Also comes with 2 stock hangers and a new spare idler pulley shaft. Pulley on the chainguide is looking pretty rough but on the bike was still remarkably smooth. Lots of people run these without the lower guide too (but I never). Cane Creek 40 headset (bearings and race not pictured). Has a 3D printed upper guide converter so you can use a OneUp guide, and a 3D printed moto foam holder to keep rocks out of the linkage. Both from Jank Components. The price is for the frame WITHOUT the DPX2 shock. I just had it rebuilt and it works perfectly but it is very loud -- this is a known issue with the new Fox seal kits. I will sell it for an extra $200 but if I was you I would put a coil on it (Fox or Marzocchi work best with the Cascade Link). I can keep the DPX2 as a spare for another bike. But if you do want it you've been warned (the only shock I know where other riders can actually hear you coming!). Happy to ship in Canada or to the US, and will do my best to get you the best rate. At current exchange rates this is less than $1300 US, which makes it far and away the cheapest Druid on Pinkbike, and that is not even counting all the extras.
Jul 27, 2023 at 11:22
Jul 27, 2023
Jul 14, 2023 at 15:43
Jul 14, 2023
Load more...