learmiller
Member since May 17, 2009

Male / 29
Phoenix , Arizona
Photographer and Mountain biker.
www.LearMillerPhoto.com
Block user
Recent

Jul 8, 2020 at 11:13
Jul 8, 2020

Selling
Jul 8, 2020 at 10:31
Jul 8, 2020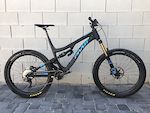 $2700 USD
Pivot Firebird 27.5 (XL) XT/XTR Pro Build kit. - I9 Hubs W/ Reynolds Carbon Rims - (2nd spare fox X2 shock included) Condition: New Cassette/Chain/ Shifter cable Normal wear from 3 years of it being my 2nd "long travel" bike. (1 missing spoke) Some minor paint chipping on downtube (mostly from removing the protective tape) Photos are current condition. Super fun bike on the jumps and very light on the ups Currently located in San Diego, But willing to ship.

Jul 8, 2020 at 10:26
Jul 8, 2020

Mar 30, 2020 at 13:43
Mar 30, 2020
Field Trip: Calibre's $1,400 Bossnut - The Boss of Low Cost
@Snowrydr01: Sick set of rides you have, I find it curious that you run the opposite setup I do. My 29er is my 135mm light/fast trailbike, and my 27.5 170mm "enduro" bike is so much fun at the bikepark or pedaling up fire roads to ride more DH style trails. I think the beauty is we have so many different types of bikes out there available to ride for different terrains or riding styles. Sucks for the wallet, but those who really notice the difference probably will make the sacrifices to afford multiple bikes.

Feb 14, 2020 at 12:30
Feb 14, 2020

Feb 2, 2020 at 16:15
Feb 2, 2020

Sedona loop
52.8 km - 05:11 - 9 achievements - 2 badges

Jan 16, 2020 at 11:43
Jan 16, 2020

Dec 26, 2019 at 8:07
Dec 26, 2019
Trailer: Fabio Wibmer Evades Security and Faces Fears in 'To The Limit'
I want to know how they feel about him riding illegally on all this private property. Not to discredit his amazing riding, but street edits like this don't exactly make friends with the public eye. I feel like companies as big as specialized tend to try and avoid anything that could be controversial like this without permits.

Dec 3, 2019 at 20:40
Dec 3, 2019
Load more...