loganrichardson
Member since Dec 4, 2009

Male / 23
Novato , California
Block user
Recent
Aug 31, 2020 at 7:10
Aug 31, 2020
Selling
Aug 30, 2020 at 18:48
Aug 30, 2020
$200 USD
Santa Cruz Jackal frame green, used. Large mark on the right side of top tube is just sticker residue that I haven't had time to clean off. Frame does have some rub marks but overall is in good condition and just needs a good cleaning. Buyer will pay shipping and any paypal fees.
Selling
Aug 28, 2020 at 8:29
Aug 28, 2020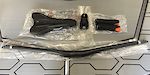 $130 USD
Pivot carbon bars, padlock grips, and pivot stem. All new (came from a 2019 Pivot Firebird 29, but I built it with a different cockpit). Never ridden or mounted. Let me know if you have any questions. Seat Pictured not included.
Selling
Aug 28, 2020 at 8:28
Aug 28, 2020
Aug 2, 2020 at 16:21
Aug 2, 2020
Selling
Aug 2, 2020 at 16:17
Aug 2, 2020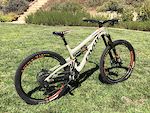 $5300 USD
I'm selling my Large Pivot Firebird 29 X01 Eagle with Reynolds/I9 wheels upgrade and Factory Float X2. I bought this bike in August 2018 and completely INVISIFRAMED the whole frame and forks while building the bike. The bike has been meticulously taken care of (I was working as a bike mechanic most of the time I've had the bike), and the rear shock had a full fox factory service at the end of last season and has only a handful of rides on it. Recently (July 2020) I removed the invisiframe and stripped the bike down to the frame, pulling all bearings etc to clean/grease and reassemble everyhting. Unfortunately when removing the invisiframe there was a spot on the top tube where a layer of paint was unfortunately removed (shown in pictures). The bike is in just as good mechanical condition as when I bought it. The bike has it's typical wear here and there, everything is as pictured above, but overall the paint is in amazing condition due to the invisiframe. I will include either the rental bar/stem combo or the factory bar/stem/grips under request of the buyer (the factory bar/stem/grips have never been ridden). I will be including the factory seat (also never ridden) instead of the one pictured on the bike. Pedals are not included. Everything else is as pictured, foam roller kickstand not included though. Please reach out with any questions or to make an offer.
Selling
Jun 13, 2020 at 11:47
Jun 13, 2020
Jun 25, 2019 at 12:11
Jun 25, 2019
RockShox's Updated Reverb Stealth Gets the Squishy Post-Fixing Vent Valve
@endlessblockades: did you check to see if the post clamp was too tight? I've found it's crazy easy to over tighten the transfer post even with their toque setting. Some carbon grip paste and loosening it slightly to where it extends properly fixed my problem awhile back. I've had zero reliability issues with my transfer for 3 years.
Jun 12, 2019 at 11:11
Jun 12, 2019
Selling
Jun 12, 2019 at 11:08
Jun 12, 2019
$1200 USD
I built this banshee amp up about a year ago to have a dj bike to mess around at the pump track with and haven't gotten much use out of it besides a few times. Mostly used the bike riding to class on campus. I'm moving farther away from campus and won't be riding it to class anymore and I don't ride it enough to justify keeping it so I'm putting it up for sale. Some parts were brand new for the build and some were used from a previous dj build. Also willing to consider parting out the main components for the right price. Will update with more pictures soon. Specs: Frame: 2018 Banshee Amp (Long), Bought new about a year ago Fork: 2018 Rock Shox Pike DJ (100mm), Bought new about a year ago Stem: Pivot phoenix team enduro Handlebars: Pivot team carbon cut to 780mm Brake: 2018 Shimano Deore (Not pictured), bought new about a year ago Seat/post: SDG I-beam Front wheel: Spank Spike Race 33 bear claw edition laced with DT Swiss campion to Hope pro 4, hand built by universal cycles about a year ago Rear wheel: Wtb fx23 wheel off previous dj build, rides fine but is bent and out of tension. This was next on the list to be replaced with he same build as the front but never got around to it. Tires: Kenda small block 8, front was new when I built the bike still 90% tread. Will include a new for the rear. Cranks: Truvativ hussefelt Pedals: Straightline
Load more...