mara
Member since Oct 14, 2006

Ústí nad Labem , Czech Republic
Block user
Recent

Dec 3, 2019 at 5:43
Dec 3, 2019

Jun 1, 2017 at 0:07
Jun 1, 2017

Jul 18, 2016 at 15:02
Jul 18, 2016

Jul 18, 2016 at 14:51
Jul 18, 2016

Selling
Jul 18, 2016 at 14:32
Jul 18, 2016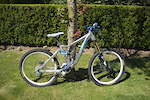 $2000 CAD
I'm selling my FR bike Giant Faith 0 size M. It was ridden for one week. It looks like new without scratches. Giant Faith 0 size M Fork FOX van 180mm, Set up high speed, low speed compressionj, Spring preload Rear shock FOX RC4 with titanium Seattube Thomson Seat WTB Bars Sunline vone-us 745 Stem Straitline Breaks Avid Elixir CR with Straitline levers Rims Sunringle MTX 33 Tires Maxxis Minion 2.5 ST Pedals Face off Crunks Race Face Atlas Grips Sunline Chain guide MRP Rear Hub Sunringle

Selling
Jul 18, 2016 at 14:24
Jul 18, 2016

Aug 14, 2014 at 3:43
Aug 14, 2014
First Look: Five Ten 2015
Its a pity that it is so poor quality yet. In first two years they import to our country it was totally different league... Now it is too crap for too much money, no reason to buy...

Feb 11, 2013 at 13:33
Feb 11, 2013

Nov 1, 2012 at 13:58
Nov 1, 2012

Jun 17, 2012 at 2:16
Jun 17, 2012
Silvia Video - Sun Peaks Opening Video
Silvia shots are just amazing, such a pity that quality (colors) of videos are so bad, blurred... If it is some filter, please don't use it! But good job...
Load more...