Simon has been mountain biking since his late teens and joined Renthal 18 months ago as an R&D engineer. Before this, he was employed as a consulting mechanical engineer in a small engineering firm in Stockport, Manchester. He graduated from the University of Manchester Institute of Science and Technology (UMIST) and has had a varied career background, working across a broad spectrum of engineering projects, predominantly in the oil and gas, nuclear and off-road construction equipment industries. During this time, Simon specialised in numerical simulation and analysis of mechanical systems and at Renthal he uses his skills to develop, design and test new and existing cycle products.

What is rapid prototyping/3D printing?
3D printing is the process of creating a physical part or structure based on an electronic representation, be it a 3D CAD model, drawing or other electronic data. The term 'rapid' refers to the time taken to produce the part. Before rapid technology, prototyping involved manufacturing a metal part, which took much longer and was a much more expensive process. With the rapid prototyping process, generally no tooling is required and manufacture set-up time is minimal, if not completely eliminated. This allows us to make small changes and have a tangible product to decide whether fit and cosmetic appeal is right, before committing to a metal prototype.

What materials does it use?
This depends on the rapid prototyping process. Additive 3D printing machines, such as the one at Renthal, use polymer materials such as ABS. Other processes are available; SLS (Selective Laser Sintering) and SLM (Selective Laser Melting) create the prototype from powdered materials, which are fused by a laser. SLA (Stereolithography) uses a photo-sensitive liquid polymer, which is cured by a laser.


The process starts with a 3D model created in CAD software. To show how versatile the process is, Renthal printed the Pinkbike logo for us. Printing starts on a baseplate, which moves down incrementally after each layer is printed. After printing is finished the rapid prototype is removed from the baseplate and must be pulled away from the sacrificial base layer.

How does the actual printing process work?
Renthal uses additive 3D printing. With this method, the physical part is built up in layers. Imagine taking a product and horizontally slicing it into very thin layers. The 3D printer lays down material to create each of these layers individually. After each layer is completed and the polymer has cooled to form a solid, the base is moved down incrementally and then the next layer is printed. This process continues until the full height of the part has been modelled. Details such as overhangs are dealt with by using sacrificial support material. The printing of this support material is far less dense, allowing it to be easily picked away when the model is finished.
Other processes such as SLS (Selective Laser Sintering), SLA (Stereolithography) and SLM (Selective Laser Melting) are different in that they use a laser to melt the top surface of a reservoir of substrate material (powder or liquid), after which the base of the reservoir is lowered, a fresh top layer is deposited and the process repeats.

What do you use the prototypes for?
At Renthal, we use rapid prototyping to fit check components and to provide a more realistic method for aesthetic assessment of new parts. The digital design tools we use are very powerful and are fantastic for the conception and simulation of a part. What rapid prototyping gives us is the ability to quickly create a real part from a virtual representation to assess aspects that can't be fully comprehended from a computer model.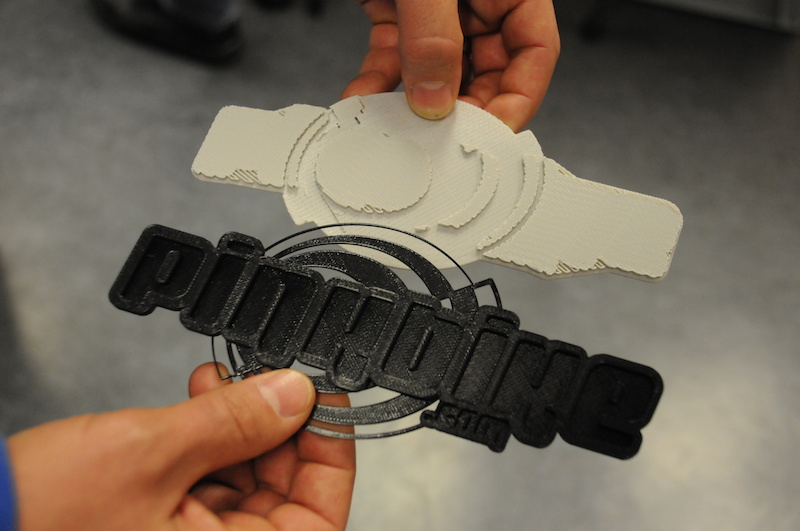 A finished 3D rapid prototype of the Pinkbike logo.

What are the advantages/disadvantages over a metal prototype?
For us at Renthal, the advantage is that we can very quickly test the feasibility of a part and identify any possible modifications that are required. This is all done with very minimal cost and lead time. The disadvantage is that the rapid proto is not a useable part. We find it hard to find volunteers to field test a plastic stem!
www.renthal.com