Suspension fiends rejoice, Pinkbike has got the exclusive on
Elka's new Stage 4 fork cartridge!
If you're looking for some high quality Canadian tuned technology to drop in your Boxxer, Fox 40, and
even your Fox 36 fork
, you'll want to check out the photos and info inside. We've also got Elka Suspension's Pat Tellier in audio to fill you in on all the details!
*Updated with photos of the Stage 4's internals - Check it out!*
Read on...
Elka Stage 4 Fork Cartridge
Here it is, the long awaited, much anticipated, and once top secret fork cartridge from Elka Suspension. Much like their rear shocks, Elka uses proven motocross technology to control the stroke, meaning a piston and shim setup, complete with a nitrogen charge and floating piston. Elka isn't trying to reinvent suspension here, and you won't find any plastic parts hidden in there either. You'll have two external adjustments to fiddle with; the dial at the top tunes your low speed compression and the adjuster at the fork bottom tunes your rebound. Elka will be offering three different stock tunes that riders will be able to pick from depending on how fast and aggressive you think you are. A heavy valved World Cup tune that is designed to hit the rough stuff hard and fast, a middle weight tune for more average riders, and a lighter damped model as well. Expect it to be available in a few weeks with a retail price of $499. As of right now there will be a version to fit newer Boxxer forks and the Fox 40, but aggressive all-mountain rippers will be pumped to hear that there is also a model that they can drop into their Fox 36. Canadian engineering coming at you!
The Stage 4 cartridge is a sealed, but serviceable, unit that completely separates damping oil from the fork's lubrication oil, thereby increasing reliability and maintenance intervals. The internal floating piston is backed with a factory set nitrogen charge at 40 psi to keep the oil from foaming under hard use while compensating for the extra volume of the damping rod entering the cartridge. Elka recommends dropping the spring rate of your fork if you are going to use the Stage 4 due to the IFP pressure. The high flow piston uses shims to control high speed compression and rebound and as you'll hear Pat tell you in the audio below, there are basically limitless combinations that can be used to finetune to the stroke to your liking. Elka does a lot of suspension for motorized vehicles and they employ the same level of seals in the Stage 4 cartridge to keep the oil in and the nasty out. Internals are hard anodized as you would expect to see on a product such as this.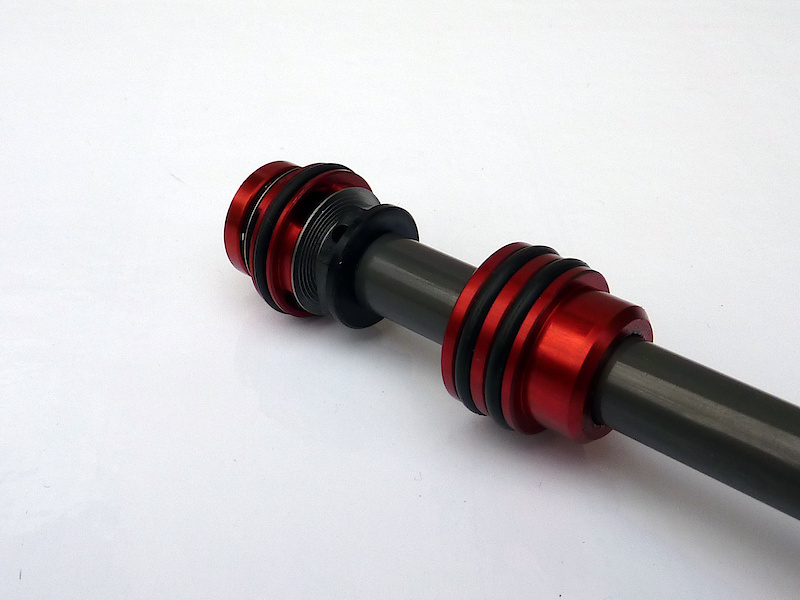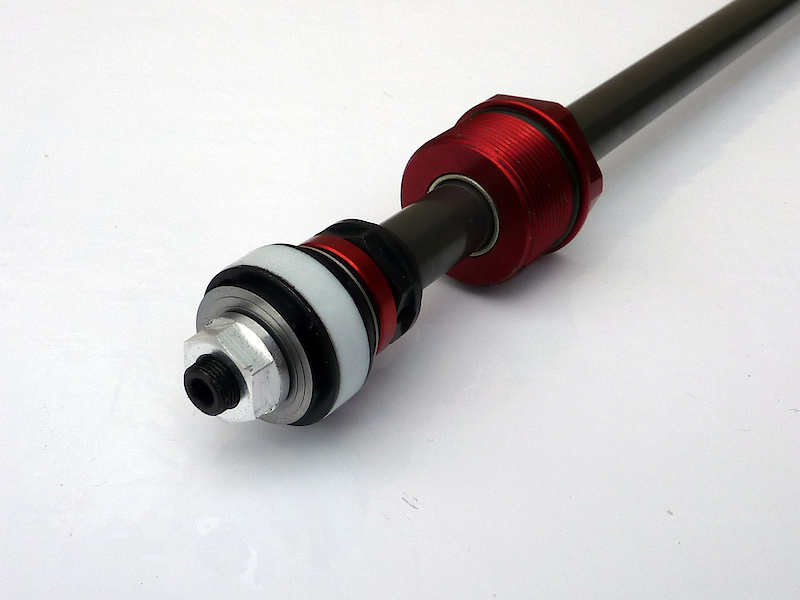 The two photos above show the Elka Stage 4 cartridge's compression and rebound assemblies.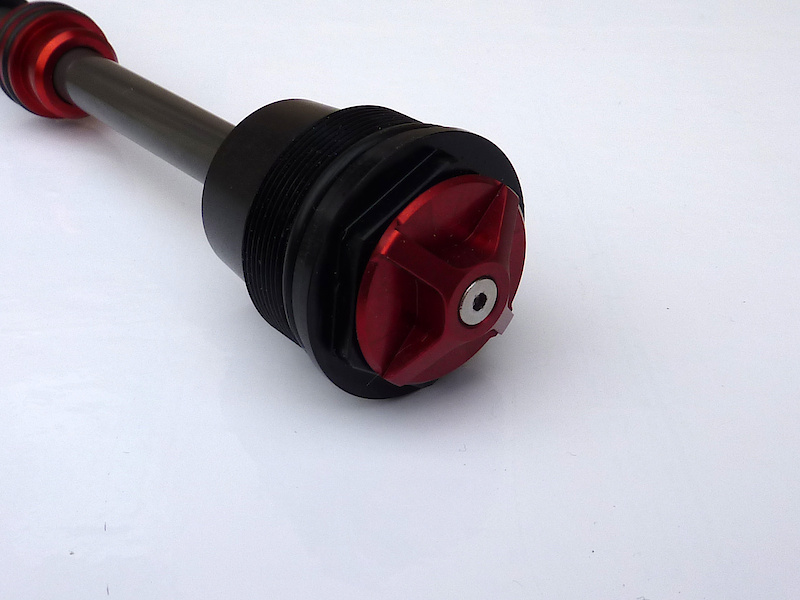 Like to turn knobs? There are plenty of clicks on the Stage 4 to keep you occupied and let you dial in the exact ride that you desire. Interested? If so, don't dilly dally as it will be available for purchase in a few weeks. How much? $499 and it can be yours.
Visit the
Elka website
for more information.
Another option in the suspension department, this time from Canadian specialists, Elka. If their rear shocks are anything to judge by, expect the Stage 4 to be a solid and gimmick free unit that you'll be able to drop into your fork and not worry about. And how about the Fox 36 compatible version! Is there a Stage 4 cartridge in your future? Lets hear your thoughts below!
Stay tuned for more Interbike coverage!