suicidedownhiller
Member since Oct 10, 2006

Male / 29
San Diego , California
Support my sponsors:
Karpeil
Spinergy
Shimano
ODI
Fiveten
Kali Protectives
Block user
Recent

Apr 28, 2021 at 13:41
Apr 28, 2021

Nov 5, 2019 at 10:45
Nov 5, 2019

Selling
Nov 5, 2019 at 10:41
Nov 5, 2019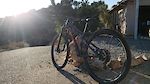 $1500 USD
The time has come to sell my trail bike, used for one full season. I bought it new in 2019 from Performance bikes before they closed, the MSRP was $3,149. The bike rides fantastic and has been a super trustworthy trail bike for me, it makes the most out of it 130mm of travel, coming from Fox at both ends. It's a 12 speed GX system, plenty of range for anything you'd want to ride. The TRP brakes do a great job of slowing you down, and the whole package climbs really well at 31lbs with no carbon anywhere! And it's got a bottle cage mount! Bulletproof, reliable trail bike with a suspension layout designed by Joe Breezer. Asking 1,700 or best offer. Needs nothing, ready to go! Size 15" fits me great at 5'8"ish. Price drop to 1500. This is a bullet proof 31 pound down country bike that is perfect for so cal!

Nov 5, 2019 at 10:25
Nov 5, 2019

Selling
Nov 5, 2019 at 10:22
Nov 5, 2019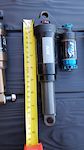 $150 USD
Dhx 5.0 air, somewhere around 2012, purchased as a spare back when I was doing slopestyle events. Good condition. Ready to go. 150$ 8.0 x 2.0 inches 200mm x 50mm

Jun 26, 2019 at 17:45
Jun 26, 2019

Selling
Nov 9, 2017 at 12:14
Nov 9, 2017

Sep 20, 2017 at 13:10
Sep 20, 2017

Added 1 video
Nov 25, 2016 at 15:11
Nov 25, 2016

Jul 23, 2016 at 11:01
Jul 23, 2016
Load more...