mr-moose
Member since Dec 2, 2016

Male / 42
Llanfairpwllgwyngyll , United Kingdom
Block user
Recent

Jul 22, 2022 at 12:59
Jul 22, 2022

Jul 6, 2022 at 3:55
Jul 6, 2022

Selling
Jul 6, 2022 at 3:55
Jul 6, 2022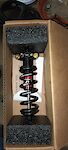 $250 GBP
Selling my Cane Creek DBIL coil 216/63 with 400lb light weight Cane Creek Vault spring. Excellent condition. Bought new from TF Tuned in Autumn 2020 but has only been used for about 9 months. It was on my Radon Swoop 170 which I've now sold and the buyer only wanted the air shock.

Selling
Jul 6, 2022 at 3:54
Jul 6, 2022

Jun 26, 2022 at 13:55
Jun 26, 2022

Jun 25, 2022 at 1:57
Jun 25, 2022
The Pinkbike Podcast: Episode 128 - Summer Solstice Adventures
@BentonFraser: depends which way you come down. Ranger path is very eroded and is about as natural as it could be. Certainly to the extent that every path that has ever been ridden on has been made by man or beast so is any path natural. I guess you're referring to the Llanberis path? I'd agree that's certainly not very 'natural'.

Jun 24, 2022 at 14:49
Jun 24, 2022

Jun 3, 2022 at 14:42
Jun 3, 2022

Jun 2, 2022 at 14:44
Jun 2, 2022
Opinion: You Should Be Fixing Your Own Bike
Having started mountain biking in the 90s when pretty much every ride was spent 50% riding and 50% trail side repairs, there's another importance benefit to being able to fix your own bike - when it breaks in the arse end of nowhere, you don't have to spend hours walking back to civilisation carrying a nackered bike. I've always considered the ability to fix your own bike to be an intrinsic part of mountain biking.

May 20, 2022 at 2:52
May 20, 2022
Load more...