mtbgangsta
Member since Apr 8, 2017

Male / 46
Lake Oswego , Oregon
Block user
Recent
Oct 28, 2023 at 1:14
Oct 28, 2023
Oct 28, 2023 at 1:08
Oct 28, 2023
Review: DVO Onyx SC D1 Enduro Fork
I have an onyx and a zeb, the onyx can be awesome and is peerless when it comes to smoothness and bottom out support. Their forks work as advertised when working properly and maintained. It is kinda weird to have a review on this fork now, and what gives with the color black, blue, or green being polarizing? This review is whack.
Oct 18, 2023 at 9:46
Oct 18, 2023
Knolly Announces New Endorphin With Improved Sizing for Smaller Riders
I have a warden and absolutely love it, amazing suspension performance and superb handling bike, fits a water bottle too. I bought a small frame first based on the published 452 reach number. I usually ride a medium size bike since i'm 5' 8 inches and a 450-ish reach usually is the sweet spot. The small size was actually too small but ideal for smaller people around 5 foot. I then decided to get a medium and the 475 published reach number fit me perfect. Everything about the size medium is perfect for a medium sized person. Point is knolly's published reach numbers are not what they appear. Not sure with what wheel size or length fork they are getting the numbers from but the small warden i had did not have a 452 reach and the medium is no where near 475.. The small felt like it had about 420 reach and the medium feels like it has 455 reach. was interesting to compare the small to other medium bikes i had and measure the wheel base and see that the knolly was physically smaller but on paper the numbers were longer? (with 180 fork)
Oct 11, 2023 at 13:52
Oct 11, 2023
Oct 11, 2023 at 13:41
Oct 11, 2023
Selling
Oct 11, 2023 at 13:37
Oct 11, 2023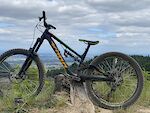 $999 USD
One of the best(funnest) bikes ever made- pictures are of the various set ups i have had over the years. Included with frame: One up bash guide Canfield 160 cranks absolute black oval chain ring- low miles Wheels manufacturing thread fit BB with recently replaced and good bearings (angular contact) Kona wah wah pedals, one green one red to keep the rasta vibe going. Rear bolt through axle One 150 dropper and SDG green saddle. Kona seat post clamp, FSA Headset included Kona hardware kit with extra bolts washers etc. Rockshox vivid Cane creek DB CS 167mm rear travel and 170 front travel with modern geo numbers and small wheels. This is a jumpers dream MTB. Ultra low stand over and seat tube, feels like a dirt jumper, short-ass chain stay at 420 with little 26" wheels. Bike handles amazing and rails corners like crazy, so maneuverable and playfull, the small wheels and short chain stays fit into berms and transitions in a way your big wheeled bikes can not appreciate, still plenty of squish to send it and smash over obstacles too. Frame gets Konas category 5 frame designation for free ride and DH bikes so it is built to last. Headangle is 65 degree with stock fork, i put a 27.5 DVO onyx which slackened it a little.The performance of newer forks has come along way and I preferred the newer suspension fork. Seat tube angle is 75 degrees and allows for a good climbing position. No problem with dropper insertion or saddle height. I'm 5' 8" with 30" inseam. Any taller i would suggest large size.. This would be ideal bike for a young shredder or someone shorter than 5' 8".. bike fit like a glove but I am on the upper end in height limit for this frame size.. Reach on the Process 167 is 450mm which is standard medium size on bikes these days- 2022 santa cruz nomad =450mm reach. Transition sentienl=450 reach. everyohter Bike out there is right about or at this number. Frame is in good condition, has one spot where I dropped it and a paint chip came off, literally just the graphics and paint chipped no other damage.. I wrapped the frame after that in susceptible areas.. Down tube is two layers of shelter tape, , plastic shuttle guard installed, bash guard installed etc.. inner tube around drive side chain stay.. Headset included BB included- Wheels manufacturing thread fit angular contact =$130.00 retail. can field 160mm cranks included with absolute black chainring. i have red and green kona pedals, one red one green to go with the rasta color scheme and are my favorite flat pedals (among the best there is) I have the whole frame linkage hardware kit from Kona. So extra bolts and washers and bearings. Replaced bearing and bike hsa seen little action, no wet days so bearings are all good. you don't need to replace them. 999 for frame with: kona spare frame hardware BB, Cranks, one up bash gaurd, kona rasta pedals, 150 one up dropper, green SDG belair saddle. Stock Rockshox Vivid air shock and or CC double barrel air CS. Have jade X coil sold separately.. Have Onyx sold separately. Have wheel set sold separately - stans flow mk3 with hope pro4 Have brake set- hayes dominion sold separately. Have bars stem other various mtb parts- if you need or want the full build lets talk and work it out.
Selling
Oct 11, 2023 at 13:33
Oct 11, 2023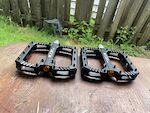 $75 USD
Bought these pedals and put them on my bike and then took them off. So they are like new but I did put them on the bike and had my feet on them pedaled down my street and back and took them off. prefer my kona wah wah
Selling
Oct 11, 2023 at 13:29
Oct 11, 2023
Selling
Oct 11, 2023 at 13:25
Oct 11, 2023
$125 USD
Have a lightly used, Spank hex hub, 120 POE 142x12 or 135 x10 or use a conversion kit for boost.. 32 spoke holes high end sweet hub..
Oct 11, 2023 at 12:59
Oct 11, 2023
Load more...