radarr
Member since Oct 21, 2000

Male / 36
Helena , Montana
Always be kind to other trail users, and get involved with your local trail organization. If there isn't one in your area, do what I did and start one.

www.montanabicycleguild.org
Block user
Supported Regions

South Hills
via
MBG
Recent

Selling
Sep 23, 2020 at 8:05
Sep 23, 2020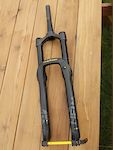 $425 USD
2019 Cane Creek Helm Air. It's set at 170mm travel, but can be adjusted from 140-170mm. It is in great shape and only has about a dozen rides on it. Stanchions and seals are perfect. No air or oil leaks. No creaks or weird noises. Only a few light surface scratches, mostly from where I ran a zip-tie fender. I got it last fall for a custom build and it didn't get ridden much. 110x15mm axle, 35mm stanchions, 44mm offset. Steerer is 195+mm long. PayPal or cash in hand.

Selling
Sep 12, 2020 at 10:28
Sep 12, 2020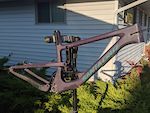 $1850 USD
If you don't want the rear shock: $1725 shipped. 2020 Santa Cruz Nomad C frame for sale in the current Eggplant / matte purple color. Size large, and it is in excellent shape. There are only a couple paint chips (pictured) and a couple minor scratches. Privateer Racing Solutions frame protector kit was installed on day one. I built the frame from new as a custom rig last September and only saw about 12 days of riding after that - we had a really early winter here in Montana last year - and I spent most of my time riding this spring and summer on other bikes. The Nomad has all the bells and whistles you'd expect from a Nomad: adjustable geometry, all day ride capability, efficient pedaling, and the ability to survive anything you can throw at it. Comes with: - Rock Shox Super Deluxe R rear shock. This shock has one ride on it - I ran a different shock. - Cane Creek 40 headset for your turning pleasure. The bearings are smooth and it has the tall cap and a new crown race. - Extra derailleur hangar. - The bits of housing for the rear derailleur and dropper post are left in. It's the polite thing to do. Also, they're pretty fresh, and even if you replace them, it makes it easier to chase. If you only want the frame and not the rear shock: $1700. I can also include a set of round and true DT Swiss XM 521 rims / 350 hubs (110/148) wheelset for an additional $350. PayPal or cash in hand. Buyer pays actual BikeFlights and PayPal fees.

May 29, 2020 at 8:07
May 29, 2020

Selling
Mar 28, 2020 at 18:53
Mar 28, 2020

Nov 12, 2019 at 22:16
Nov 12, 2019

Selling
Nov 12, 2019 at 22:14
Nov 12, 2019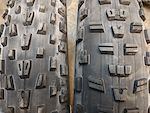 $120 USD
Up for sale is brand new set of Maxxis Minion FBF and FBR 26x4.8" EXO tires. Tubeless ready. Never ridden. They're about as good as you can get for traction, float, and protection. I'd prefer to sell them as a set.

Nov 12, 2019 at 19:02
Nov 12, 2019

Selling
Nov 7, 2019 at 11:42
Nov 7, 2019
$325 USD
Up for sale is a 2018 Rock Shox Lyric RC. 170mm travel. 46mm offset. Charger damper, 110x15mm (Boost) spacing, Torque Cap compatable (note - you can run torque caps or a regular 110x15mm hub). The fork is in fantastic shape. I ran 2.6" Butchers on 35mm rims in this thing and there was tons of room. Complete overhaul done by my LBS a few weeks ago. New seals, damper rebuild, everything. It had one short ride after the rebuild then came off the bike. Steerer is 7.75" and there are no scratches on the stanchions. Only a couple minor scuffs on the lowers. Price is shipped.

Mar 26, 2019 at 17:22
Mar 26, 2019

Selling
Mar 26, 2019 at 17:21
Mar 26, 2019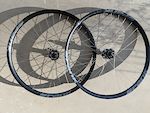 $250 USD
New Spank Spike Race 33 in the Bearclaw Team colorway. Novatec XD642SB-B12 boost hubset (new Santa Cruz takeoffs) with the fancy 80t engagement and an XD driver. Round and true and ready to go. Spokes are silver DT Swiss Revolutions. These DT's extra fancy, extra tapered, lightweight spokes. Comes with the leftover 8 extra spokes that weren't used in the build! Total weight is 1820g for the set! These had tires mounted with tubes, but they've never been ridden! I ended up with a different wheelset than this one that was built up over this last winter. $250. Shipping is on you, but I'll cover the PayPal fees!
Load more...