shakabro
Member since Apr 26, 2016

Male
San Juan Capistrano , California
Block user
Recent

Mar 11, 2023 at 11:51
Mar 11, 2023

Mar 1, 2023 at 13:14
Mar 1, 2023

Jan 24, 2023 at 23:50
Jan 24, 2023

Jan 24, 2023 at 9:12
Jan 24, 2023

Selling
Jan 22, 2023 at 13:29
Jan 22, 2023

Selling
Jan 22, 2023 at 13:21
Jan 22, 2023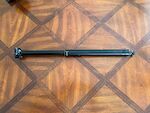 $180 USD
Bike Yoke Revive Dropper Post, 30.9mm diameter x 213mm drop. Triggy remote included. Best long travel dropper on the market! Excellent condition, some scratches on the lower leg body from insertion that do not impact performance but no scratches on the stanchion. Also included: Adapter for increasing/reducing air pressure via shock pump. Quick reset lever for performing the "revive" function. Cable clamp and grub nut for connecting cable to post actuator. This post will also work fine in a 34.9mm seat tube with a shim, which is how I ran it on my Specialized Stumpjumper EVO (shim was included with factory frame). I'd be happy to throw in the shim if you need it. The only thing you will need is a cable (the excellent Jagwire dropper cable is like $12 on amazon).

Jan 22, 2023 at 13:11
Jan 22, 2023

Jan 7, 2023 at 17:08
Jan 7, 2023

Nov 15, 2022 at 9:46
Nov 15, 2022

Oct 13, 2022 at 11:40
Oct 13, 2022
Load more...