silvbullit
Member since Sep 22, 2011

Male / 39
New Gloucester , Maine
Block user
Recent
Jun 29, 2020 at 15:48
Jun 29, 2020
Jun 27, 2020 at 17:42
Jun 27, 2020
Bike Check: Jesse Melamed's Rocky Mountain Slayer
Do you prefer the outgoing X2 or did this photo session happen before you got a hold of the 2021? Just curious because I just did the swap and the new X2 is roughly 40g heavier (ha not that you care) than the old one but feels less wallowy to me. Also we are gonna have to know your click count on the new one so we can dream it will make us that fast! Thanks for the awesome Youtube content btw!
Jun 26, 2020 at 16:21
Jun 26, 2020
Jun 23, 2020 at 18:29
Jun 23, 2020
Selling
Jun 23, 2020 at 18:29
Jun 23, 2020
$650 USD
This is a shop-mechanic owned 2019 Float Factory 36 GRIP2 180mm Boost fork with 44mm offset, 7.75" tapered steerer and an included Kabolt axle as well as unused original axle. Also comes with the manuals, the sweet Fox decal, and an extra volume spacer. There is one installed in the fork already. This fork has only seen 14 rides like the X2 I am selling from the same bike. This is my enduro race/park/gnarly bike so my little "trail" bike gets all the use while this bike sits on the hook. As a result, this thing is in excellent shape with flawless stanctions and only small scratches on the decals that are all pictured and to not make it to paint. I will include a new digi-camo 36 decal kit that I never used so you can make the fork look new. The fork has been flawless and I did pull to lowers for the fork seal and oil bath service once over this past winter. I am only selling because I got the new 38 (which is, sadly, over a half pound heavier than this). I am somewhat regretting selling it already because I don't know if we will see such a light weight 180mm fork for a while again. Only 2050g on my scale with the kabolt installed. Thanks!
Jun 23, 2020 at 18:07
Jun 23, 2020
Selling
Jun 23, 2020 at 18:07
Jun 23, 2020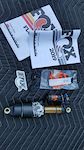 $450 USD
This is a bike shop mechanic owned 2019 X2 Factory that has only a total of 14 rides since new. Comes with everything that a new one would except the original box which is because Fox didn't send it back in the original box from service. Sent it to Fox over this past winter for the air can seal service since while the bike wasn't being used over winter. I have the receipt for that as well. Only 4 rides since that service. Only reason I am selling is that I got the 2021 X2 (which is, sadly 44g heavier than this one). No issues, looks pretty much like new. Ran it with the Fox bearing kit so the rear DU bushings are new. Free shipping to continental US. Thanks!
Jun 23, 2020 at 12:26
Jun 23, 2020

Doosty belated Dad's Day Date with Betty (5010)
Load more...