sumskillz
Member since Jun 14, 2011

Male / 52
Aurora , Ontario
Block user
Recent

May 8, 2022 at 19:08
May 8, 2022

Selling
May 7, 2022 at 7:27
May 7, 2022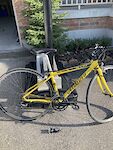 $260 CAD
Juniour road bike suitable for someone under 5'3". I have the shorter stem that was OEM. Bright yellow. Brand:Specialized Model: Allez Juniour Shimano 105. Working order. 2X9 gearing Has interruptor brake levers in addition to hooded gear change/brake levers Newish padded grip tape. 700X23 tires Alex rims. Vintage: unknown. Likely 2000-2005. Pickup near St Johns Sideroad and Gateway Drive area, Aurora Cash and carry only. Exact change. No trades. Tell me when you can come get it.

Apr 23, 2022 at 15:16
Apr 23, 2022

Selling
Apr 23, 2022 at 15:15
Apr 23, 2022

Apr 14, 2022 at 17:07
Apr 14, 2022

Oct 21, 2021 at 7:17
Oct 21, 2021

Oct 7, 2021 at 5:46
Oct 7, 2021
Bike Check: Szymon Godziek's Custom Red Bull Rampage NS Fuzz
Its time for burlier forks. Freeride/slopestyle is not the same as downhill racing. They need much better suspension components. The loads are way higher than downhill racing activities. Its like running a Pro4 racing truck in a rock crawling event.

Sep 25, 2021 at 7:41
Sep 25, 2021

Sep 20, 2021 at 8:36
Sep 20, 2021

Sep 16, 2021 at 6:53
Sep 16, 2021
Video: The Winning Runs from the Snowshoe DH World Cup #1 2021
As far as rock gardens go, this course is just stupid. Too much. As a fan, I'm turned off. Not doubting the skill needed to navigate it, but I'd rather see more high speed in the trees. Downhill courses seem to be designed now to break equipment and bones.
Load more...