veero
Member since Dec 17, 2001

Male / 40
Gloucestershire , United Kingdom
Block user
Recent

Sep 28, 2022 at 4:33
Sep 28, 2022

Selling
Sep 17, 2022 at 2:55
Sep 17, 2022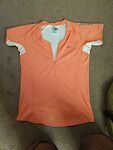 $7 GBP
Helly Hansen Short Sleeve Base Layer - Medium Half zip, excellent condition. Price includes postage

Sep 17, 2022 at 2:52
Sep 17, 2022

Selling
Sep 17, 2022 at 2:51
Sep 17, 2022

Selling
Sep 17, 2022 at 2:49
Sep 17, 2022
$25 GBP
Women's Endura Bike Shorts - Medium Excellent condition only worn a couple of times. Adjustable waist band and short end cuffs. Price includes postage.

Sep 1, 2022 at 3:46
Sep 1, 2022
Spawn Cycles Introduces 22", Adjustable 20/22" & 26/27.5" Kids Bikes
My son's Orbea Laufey came with a 50mm dropper. It's a great idea but unfortunately it seems it's just a shortened travel adult dropper so needs a fair weight on it to get it to compress and being 6 he's not really able to do without really leaping down on it, which is far from ideal. It's a non-adjustable cartridge so we'll just have to wait until he grows and gets heavier. Orbea were truly effing useless in the customer support function. First they sent me a link to the manual saying I could adjust it, which you clearly can't. Then they seemed to think I should warranty it and take it back to the shop when there's clearly nothing actually wrong with it. Maybe a bit of language barrier but mostly I think it was just clueless 1st tier sales/support people with no product knowledge. Other minor gripe with the Laufey is the super long cage mech which practically reaches the ground. How he's not wrecked it yet I don't know... Last Orbea I'm likely to buy, it's a shame as otherwise it's a pretty well spec'd bike. But yes you're absolutely spot on, a OneUp shimmed down to a suitable stroke is a great idea, if he doesn't beef up soon that may be a solution!

Aug 16, 2022 at 13:38
Aug 16, 2022
Video: Transition Announces Carbon Patrol Coming This Fall
@wolftwenty1: Haha yeah kindf of, well I guess I made it as near as a 16 Patrol as possible. I think a big part of my issue with my 19 Patrol was the Fox suspension, it was just dull and lifeless, no amount of tinkering seemed to liven it up. RS on the Scout, I bloody love it, perhaps I'd sitll have the Patrol if I've tried different suspension on it who knows...

Aug 16, 2022 at 12:59
Aug 16, 2022
Video: Transition Announces Carbon Patrol Coming This Fall
@BrentZombie: Yeah get yourself a demo on a new geo Scout, they're an absolute hoot. If you're not going massive every ride and don't want to go full wagon wheel a newer Scout will probably suit you. I bumped mine to 160/150 and put a coil on and love it to bits.

Aug 16, 2022 at 11:52
Aug 16, 2022
Video: Transition Announces Carbon Patrol Coming This Fall
It is/isn't all sarcasm, they can build up heavy. I reckon most TR owners complain about the weight and then forget about it instantly when railing it down a hill, through some rowdy chunk and over big old jumps, which is why they've gone heavier because people are thrashing the living crap out of them. I've stuck with TR ever since getting a 16 Patrol. It was just a riot to ride compared to other bikes at the time. They've certainly made fun trendy but I just keep going back. The change to SBG was real, not just hype, I've ended up on a carbon Scout because age and whatnot related issues meant I wasn't getting rowdy enough to push the19 Patrol to get the most out of it. Every TR I've ridden just gets me grinning and I've no doubt this one will be the same. Sure they're heavy but I rode the 16 Patrol on long rides including a 41 mile enduro and it just got on with it and it was easy to blast past all the weight weenies on their lighter XC oriented bikes on all the downs. Sure most overtook on the next climb but so what I had fun.

Aug 15, 2022 at 4:46
Aug 15, 2022
The Mac Ride: Early Childhood Development
@IsaacBikes: Having a child on the Mac Ride in front of you really changes the way the bike handles. I think the same way a trailer adds a lot of mass and constantly reminds you a kid on the MR does the same, plus you can literally feel them in the hollow your arms, legs and head make if that makes sense. It doesn't make it difficult to handle, it's just very different and I am constantly on a higher state of alert and risk aversion when riding with the precious cargo aboard and simply don't do the clowning around I would do on my own. Sure I've had those sorts of crashes where a tree stump I completely didn't see blindsides me and I've ended up in the hedge, but with a passenger you just go slower and more carefully. I had a crash back in May just rolling round a berm I'd done loads of times. Front wheel washed slightly went down like a sack of crap and was out with shoulder soft tissue damage for a few months. I wouldn't have been doing that berm with a kiddo onboard. With the MR I've mainly done fireroad and canal path rides with my kids, some off road, but if anything only really blue trails with an odd bit of singletrack and touch wood have only had 2 minor hiccups. Once I stopped and my foot slid out on gravel and we both ended up in a heap, minor tears but no injuries and the other when I had to stop quickly and the bar caught a tree and forced the bars round and just started to squash little 'uns leg a bit. Again no injury not even any tears. I've seen more people overturn a trailer with a child in that accidents I've had with my kids on the MacRide. But yes you're right, constant vigilance is key. Once the fruit of your own loins is on a bike with you in whichever seating arrangement you'll naturally take 100% more care than just riding on your own. I would still whole heartedly recommend a Mac Ride.
Load more...
Featured
Photo by SCOTT-Sports