wes140
Member since Jan 22, 2013

Online
Male / 33
Wenatchee , Washington
Block user
Supported Regions

Sage Hills
via
Sage Hills
Recent

Jan 28, 2023 at 10:38
3 days

Dec 9, 2022 at 11:40
Dec 9, 2022

Selling
Dec 9, 2022 at 11:40
Dec 9, 2022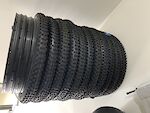 $50 USD
Selling new Schwalbe Magic Marry DH tires. These are the Addix ultra soft compound and are my personal favor tire for basically all conditions. Have a few sets available. Asking 50 a tire.

Selling
Dec 9, 2022 at 11:34
Dec 9, 2022

Dec 5, 2022 at 18:55
Dec 5, 2022

Nov 15, 2022 at 12:07
Nov 15, 2022

Oct 15, 2022 at 9:28
Oct 15, 2022

Selling
Oct 15, 2022 at 9:27
Oct 15, 2022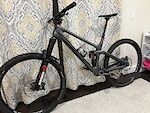 $4300 USD
2022 transition sentinel in like new condition. Not much time on the bike due to being extremely busy so needs a new home. Possibly maybe 10 rides on it so it's in new condition. Frame has full ride wrap Frame protection and only has one scuff under the down tube from shuttle pad. Remove ride wrap and it's gone. Build spec is as follows Marzocchi bomber z1 air fork Fox float X2 rear shock Ethirteen alloy wheelset New shwalbee magic marry tires Ethirteen sprocket 32t and cassette 49t Ethirteen alloy crack set Ethirteen chain guide Anvl bar 800mm Angle stem SRAM code r brakes and calipers SRAM GX drivetrain Anvl seat FSA headset Dropper post ( generic from past bike) works really well! Great bike, and wish I had more time to ride it. New owner will be very happy with this bike. Asking 4300 obo plus shipping. Feel free to ask any question or request more photos.

Aug 3, 2022 at 22:08
Aug 3, 2022

Selling
Aug 3, 2022 at 22:06
Aug 3, 2022
$4000 USD
INCLUDES 2 NEW SETS OF MAGIC MARRY TIRES, TRP BRAKE PADS, LIGHTLY RIDDEN E13 LG1 ALLOY COMPLETE FRONT WHEEL, EXTRA BRAND NEW E13 LG1 ALLOY RIM! Perfect way to get into a new bike! 2022 Transition TR11 XL. Bike is in great condition, build up early last year and well maintained. Doesn't have much time on it this season since I've been mostly riding my trail bike. Hasn't been ridden since mid 2022. Maybe 12 ride all together on it. Frame looks almost new with no scratches or dents. Bearings have been well taken care of and move freely. Bike has a great build that is made to last but also be light. The TR11 is a great park and race bike. Super playful on jump lines but can still smash rock guards with ease. This is my third TR11 so I'm definitely a fan. Bike build below. Marzocchi Bomber 58 air fork Rockshox super deluxe coil 550lb spring E-thirteen Carbon LG1 wheelset E-thirteen Carbon LGI crankset E-thirteen chain guide, sprocket & BB TRP 7 speed derailleur and shifter TRP quadium Brakes TRP rotors 203mm Anvil Bars 800mm Anvil seat SRAM decent stem SRAM decent seat Post ODI lock on grips Shwalbe magic marry tires (Like New!) Feel free to ask any question or request any photos. Asking $4000
Load more...
Featured
Video by evo