zmtthw
Member since Jan 12, 2009

Male / 40
Denver , Colorado
Block user
Recent

Added 1 video
Jun 3, 2020 at 13:41
Jun 3, 2020

Jan 10, 2019 at 18:25
Jan 10, 2019
Video: Is Red Bull Rampage Worth It?
While I agree with you, what the biggest delta between those folks and these riders is that those professional sports are bringing their organizations millions and billions of dollars. @gnarnaimo:

Sep 2, 2018 at 19:55
Sep 2, 2018

Selling
Sep 2, 2018 at 19:55
Sep 2, 2018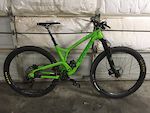 $2450 USD
Selling my 2016 Evil Following. Recently gotten into Gravel Riding for work/training and unfortunately this rig is sitting in the garage collecting dust. I'm the second owner and have had it for about two years. Used mostly for XC rising while living in TX and have only used for one Xterra Tri while living back in CO. Please ignore the pedals and tires in the picture. The tires are currently Ikons. Last time I weighed her, it was around 29.4lbs. Please let me know if you have any questions. Zmtthw Size Medium 2016 RS Yari set at 130 Maxxis Ikon's XT Cranks XT Shifters XT Brakes XT Rear Derailleur Carbon Handle Bar WTB Saddle Dropper Post Pedals not included

Jul 14, 2018 at 14:05
Jul 14, 2018

Selling
Jul 14, 2018 at 14:05
Jul 14, 2018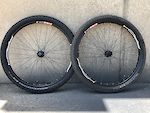 $499 USD
I have a brand-new set of Stan MK3 wheel set. Professionally built and ready for the biking season! -2018 -Includes DT Swiss upgrade engagement (36 pawl converted to 54) -Aluminum -32 Hole -Custom orange nipples -Front hub DT Swiss six bolt pattern 15 x 100. -Rear hub DT Swiss 240 6 bolt pattern / 11 speed 12 x 142 Please let me know if you would like any additional pictures or information. Will professionally package and ship where needed. Thanks for looking. MZ

Jun 11, 2018 at 20:33
Jun 11, 2018

May 16, 2018 at 7:49
May 16, 2018
Video: Behind The Bike - John Hall, YT Mob Mechanic
Gerat Vid! I think what stuck out most to me in such a short clip is his point/s about his work ethic. It is easy to watch riders and supporting folks as they celebrate in the limelight but there isn't a big push to show the process of getting there. It could have been his natural personality or what he was taught while in the service but positioning yourself on a constant basis to reach whatever goal you have....is critical. I served as well and while the military lays out a plan for you per say, it is up to each and everyone to make the most of it. If you want to get to a specific location/job/etc.....don't wait until the wind blows you in that direction...make the right moves and strategically insert yourself when/where needed. Hats off to this guy and his team! Winning and results are what most hang their hats on but for me, appreciating the process and the purposeful moves to get there is something of more interest.

Selling
Apr 7, 2018 at 11:20
Apr 7, 2018

Mar 6, 2018 at 6:54
Mar 6, 2018
Jackson Goldstone's Day Out With Dad - Video
Great video! As a father and bike rider.....I truly look forward to getting my young boys on bikes and exploring. They currently have their little tricycles bikes but always ask if they can go ride with me. Soon enough! While the riding/location were amazing, this video hits me from another angle. Super cool seeing a father and son spending time with each other. With all the craziness going on right now and with the wave to technology taking over (topic for another day), truly amazing to see a connection between father/son and exploring via two wheels. Hats off to them two for continuing to ride together, travel together, and continuing to grow their relationship.
Load more...