The judges have spoken. The top 5 Wildcard candidates have been selected and now it's
up to you to decide
who snags the sixth and final spot for the 2013 Deep Summer Photo Challenge.
Time to vote on the TOP 5 Wildcard Photographers to determine who will compete in The Deep Summer Photo Challenge at Crankworx Whistler. Who do you think can shoot with the best? Voting is open now! Rank the wildcard shooters and we'll see who rises to the top to compete against some of the world's best mountain bike photographers! Voting ends on June 28th, winner announced July 2nd.
The Top 5 WILDCARD Candidates for the Deep Summer Photo Challenge at Crankworx Whistler are: Bill Hawley, Duncan Philpott, Toby Cowley, Pat Branch and Taylor Loughran.
VOTE HERE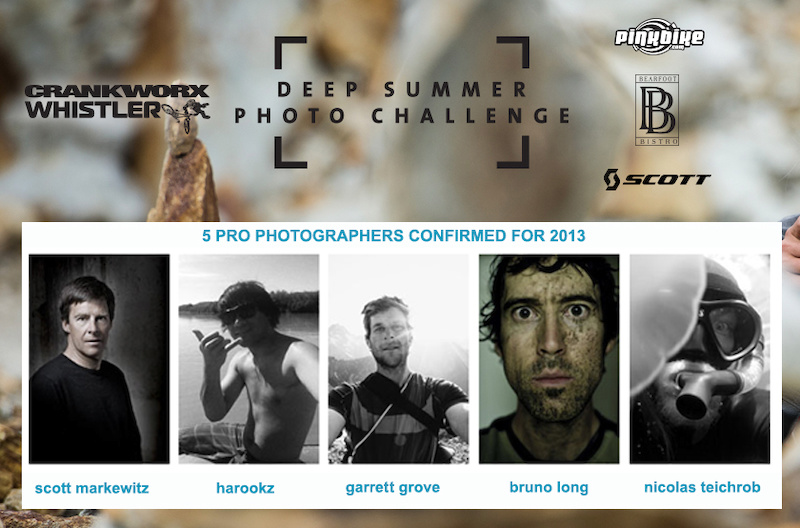 The five pro photographers set to storm the Whistler Mountain Bike Park and create a slideshow to be shown on Wednesday, August 14, are:
• Scott Markewitz -
www.scottmarkewitz.com
• Harookz -
www.harookz.com
• Garrett Grove -
www.garrettgrove.com
• Nicolas Teichrob -
www.nicolasteichrob.com
• Bruno Long -
Bruno Long
The Pinkbike Deep Summer Wildcard Search will determine the sixth photographer to join the competition. Visit this link for details and dates for the Pinkbike Deep Summer Wildcard Photographer Search:
www.pinkbike.com/contest/deepsummer/
The Deep Summer Photo Challenge will take place under the stars at the spectacular Whistler Olympic Plaza again in 2013. Priority seating and close sightlines to giant HD screens will be on offer with a number of ticketed seats available for $5. The area beyond the ticketed seating will be available for spectators to take in the Deep Summer Photo Challenge free of charge.
The photographers will rally their chosen athlete teams to embark on three days of intense shooting and editing commencing Saturday, August 10. Slideshows will be handed in by the end of the day Tuesday, August 13. Then on Wednesday, August 14 a massive crowd will experience deep summer in Whistler through the lenses of six elite mountain bike photographers with first place taking home $5,000, second place $3,000, and third place $2,000.
RSVP for the Deep Summer Photo Challenge at
facebook.com/crankworx
and stay tuned to
www.crankworx.com
for upcoming news.
Check out these three slide shows from 2012
: