MicroSHIFT Marvo XE
What it is:
You are forgiven if this is the first that you've heard of MicroSHIFT, especially considering that it would be an understatement to say that SRAM and Shimano have the lions share of the drivetrain market. But it's always good to keep an open mind, right? MicroSHIFT may not have the product spread that the two big players can brag about, but they do offer the sharp looking, Shimano compatible 9 speed Marvo XE rear derailleur tested here, along with a matching front derailleur and 9 speed shifter set. While Marvo XE parts do not have the flash of their competitors high-end offerings, it is important to keep in mind that they are not aimed to compete with the XTR or XX ranges, but are lined up against SRAM and Shimano's mid-range X5 and Deore offerings. The Marvo XE rear derailleur weighs in at 235 grams (
233 g claimed
) and retails for $75 CAD, the shifter set sells for $90 CAD and the front derailleur (
not tested
) goes for $50 CAD.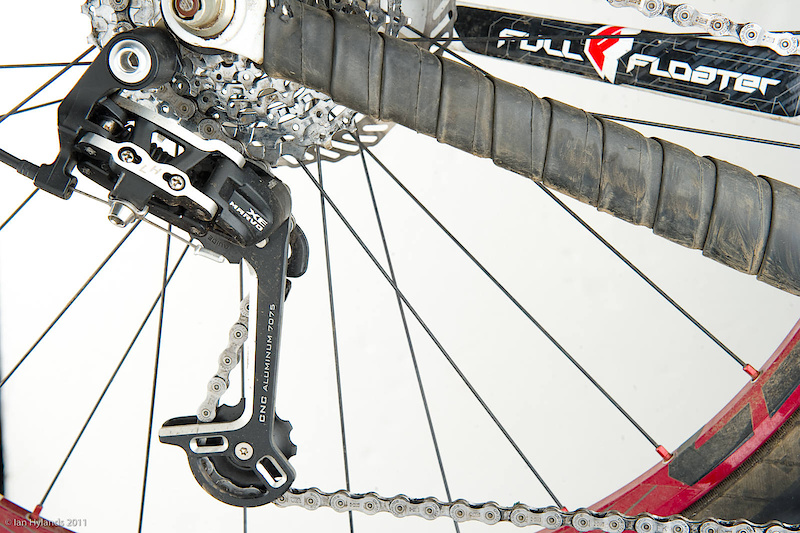 With a competitive retail price of $75 CAD, the Marvo XE rear derailleur is aimed at SRAM's X5 and Shimano's Deore range.
Marvo XE rear derailleur details:
- 9 speed
- Long and short cage options
- Weight: 235 grams (
233 claimed
)
- Compatible with 9 speed Shimano running gear
- Colors: black, anodized red or gold (
$15 CAD upcharge
)
- MSRP $75 CAD
The details:
The first thing that you'll notice about the 235 gram Marvo XE rear derailleur once it's in your hands is how solid it looks and feels. Granted, there are no carbon bits (
you won't find that on anyone's similarly priced rear derailleurs
), but what the XE lacks in flash it looks to make up for in function. The long cage - 133mm from the pivot to the very bottom, slightly longer than Shimano's or SRAM's long options - uses a rather thick outer plate that appears to be ready for any rock or root infested trail out there. Torx hardware is used to hold the cage and the non-sealed pulley wheels in place, as opposed to easily stripped, small hex head screws, with the upper pulley's screw threaded in from the backside to make it easier to reach. The parallelogram's pivot pins are pressed into place and the unit is not rebuildable. The derailleur's cable anchor bolt is in the traditional position at the bottom of the parallelogram which will make it more vulnerable to damage, although the anchor tab is quite beefy. The limit screws are clearly marked and thread directly into the body instead of easy to strip, but also easy to replace, plastic inserts as found on some other derailleurs. They are also inset into the aluminum so as to be protected from damage. You won't find a barrel adjuster on the rear of the derailleur, leaving all of the adjustment to the shifter. Both the cage and parallelogram springs feel quite stiff. The 9 speed Marvo XE rear derailleur is compatible with any 9 speed Shimano shifter, as well as any make of 9 speed cassette or chain.
MicroSHIFT's Marvo XE shifters are simple, if rather large, units that include a built-in, non-removable gear indicator. While the bar clamp itself is quite thin the gear indicator takes up about three times the space. The shifter paddles are both thumb operated, with the low paddle being aluminum and the smaller, upper paddle made from plastic. The low shift paddle can move through three gears in a single push, the high paddle is one gear at a time. Cable changes are facilitated by pulling out a rubber plug. Our Marvo XE test gear was setup on a single ring, 1 x 9 system, so I only put time on the 123 gram, 9 speed rear shifter.
The Marvo XE rear derailleur is a sturdy unit that looks like it can take some abuse.
Performance:
Installation was very straightforward - if you've ever installed a Shimano derailleur or shifter you'll be able to handle this one as well. The shifter came with a cable already in place, but I threaded a new one through to see how easy it was and found that it is as simple as on any other shifter out there. I did have major trouble trying to get the shifter into a usable position on my handlebar - the gear indicator prevented me from putting it anywhere that would even be remotely ergonomic. After trying to get it into an accessible position, both inboard and outboard of the the brake perch, as well as trying to fit it with both Avid and Shimano levers, I gave up and settled on a spot that was as good as I could find, although still terrible.
Just as one would hope, the Marvo XE shifter goes through the gears when either paddle is pushed, although the feel isn't quite as positive as its competition. The blame for this falls straight onto the cheap feeling shifter. Besides being so ergonomically incorrect that I actually had to slide my hand inboard by a full inch in order to reach it, it feels quite vague - the "ka-chung" lets you know that the shift has happened, but the shifter has an imprecise touch that leaves a lot to be desired. The dual thumb paddles are also arranged is such a way that the upper paddle (
used to shift to a high gear
) is difficult to hit even when I managed to get my hand in the right position. The internals of the shifter are also exposed to the elements each time the lower shift paddle is pushed. I'll admit that I didn't have any reliability issues with the shifter during the test, but I'm willing to bet that having it open like that is less than ideal in the long run.
If it sounds like I'm taking the Marvo XE shifters to task, it is because I am. They really are terrible, but the good news here is that not only can the rear derailleur (
as well as the front derailleur that isn't tested in this review
) be operated with any of Shimano's 9 speed shifters, it actually proved to be more than up to the challenge by surviving plenty of abuse and neglect while bolted to the back of my Trek Remedy test bike. It is free to swing up and hit the chainstay, and therefore it isn't nearly as quiet as a SRAM or newer Shadow equipped Shimano derailleur, but the Marvo XE unit confirmed that it is as sturdy as it looks, despite a few nasty drive side crashes and snagging it on the odd rock or tree. Even a wet and muddy Winter season, including excessive post-ride hose downs, couldn't foul up its pivots either, and they remained as tight as when new. The recessed limit screws meant that no amount of dragging the derailleur through the rocks would render them unworkable, and once limit adjustments were made they seemed to not need any further attention - there was no screw migration over time on the XE. The odd cable tension adjustment was required, less so than that of a full SRAM setup and about on par with a Shimano system, but nothing out of line.
The Marvo XE rear derailleur and shifter were paired with a 9 speed Shimano chain and cassette, and while the speed of gear changes was nothing to brag about (
the action is certainly slower than current top end 10 speed offerings, but that's to be expected
), it wasn't terrible either. If you haven't spent time on a new 10 speed system from either of the two big players you'll have nothing to complain about when using the XE running gear.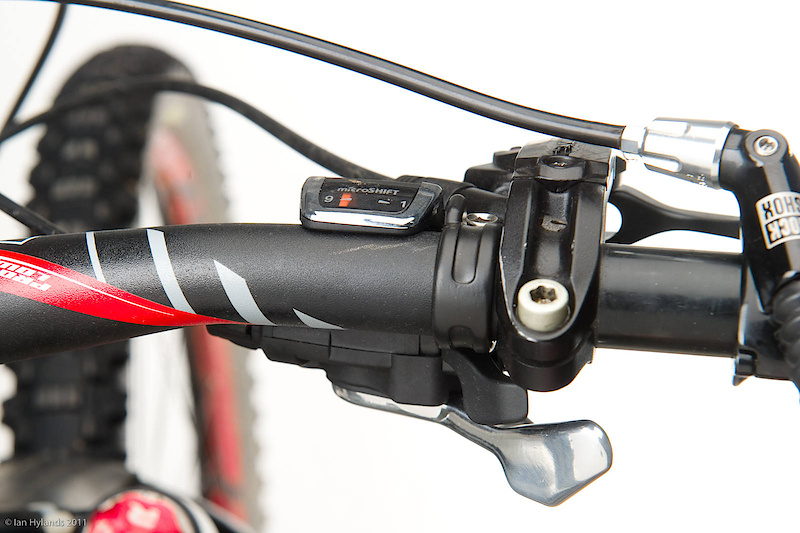 The Marvo XE shifter is practically useless. Not only does it require quite a bit of pressure on the thumb paddle to shift, it doesn't mate well with either Shimano or Avid brake perches - it was nearly impossible to reach the paddles without moving your hand from where you would normally have it. The culprit is its non-removable gear indicator window.
Pinkbike's take:
Would I recommend MicroSHIFT's 9 speed Marvo XE system? Certainly not the shifters - they are easily one of the worst products that I've spent time on - but the rear derailleur does stand out in my mind as being a solid and dependable unit that may be a good, inexpensive option for abusive riders who are on a budget.
Check out the
MicroSHIFT
website to see their entire lineup.