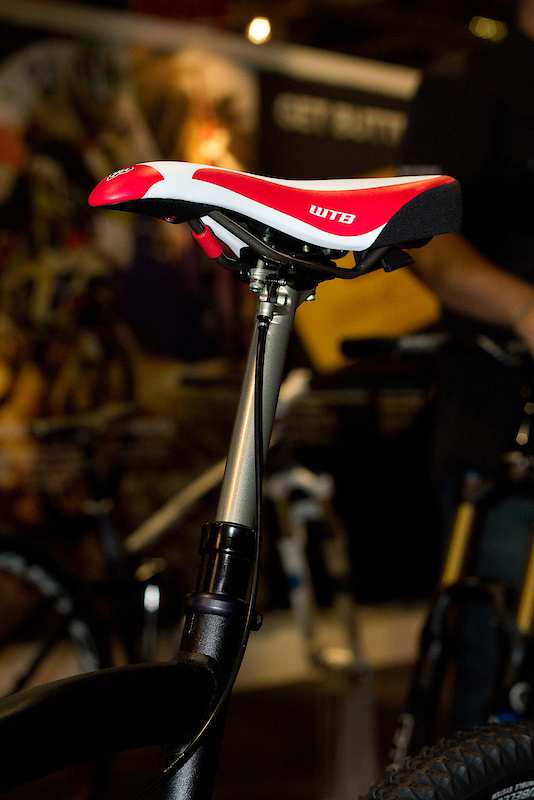 Being in the suspension game, it does make sense for Fox to jump into the growing telescoping seatpost wars. After all, a lot of the same technology can be applied to the problems that need to be tackled. While you are looking at an early prototype of the DOSS - Drop On Steep Shit - it was fully functioning and I was allowed to run it through its travel. While not overly eager to share too much information, Fox's Dan Robbins explained to me that their engineers have combined both the key-way that holds the post head from spinning and the internal travel control-stops into a single mechanism. Fox plans to make two travel options available when the post does hit the production line, both a 4" and 5" version depending on what you feel you need. Don't hold your breath, it'll be a while before you'll be able to pick one up.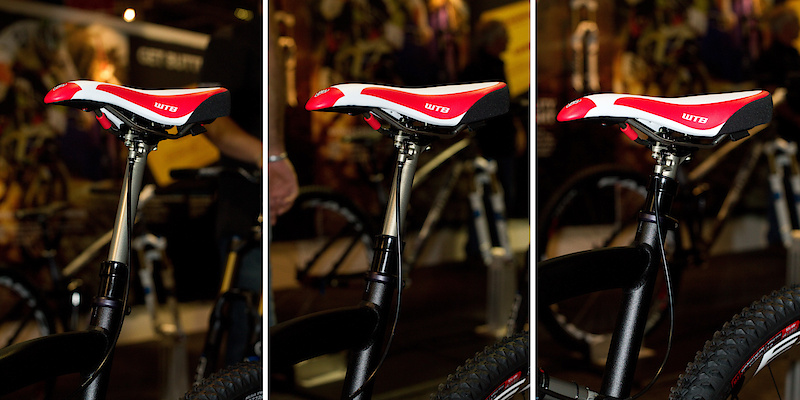 One of the goals when designing the DOSS post was to simplify finding that middle cruiser position that is so handy when you are only looking for a bit more clearance or a lower center of gravity for fast or technical sections of trail. Instead of having to compress the post and then release the lever when it is at the middle setting like you'd do on most models, the system on the DOSS lets you depress the remote lever half way to let the post lower and stop in that position, it simply won't go any lower any further unless you push the remote more. I played with it a bit in the stand and the system seemed to work very smoothly.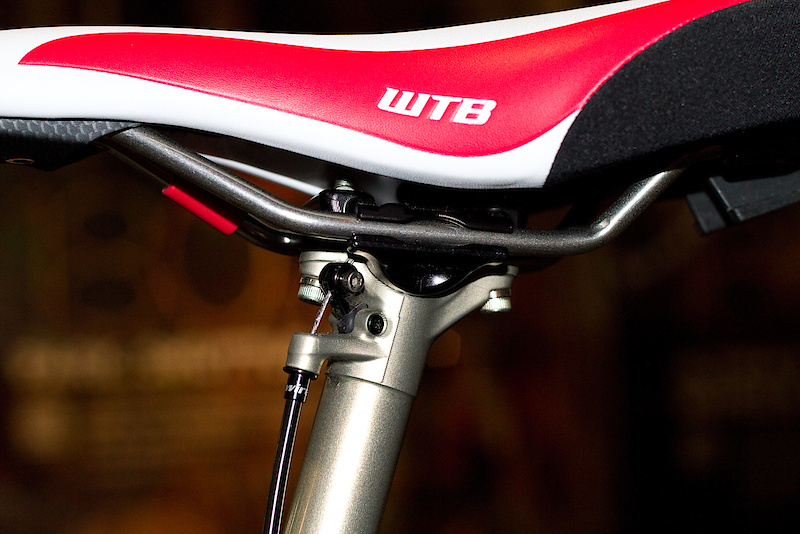 Up top you'll find a one piece head with a two bolt design that should prove much more reliable than what some other posts use. There will be no twisting of the post's head or seats that tilt back when you come down on them hard while the DOSS is under you.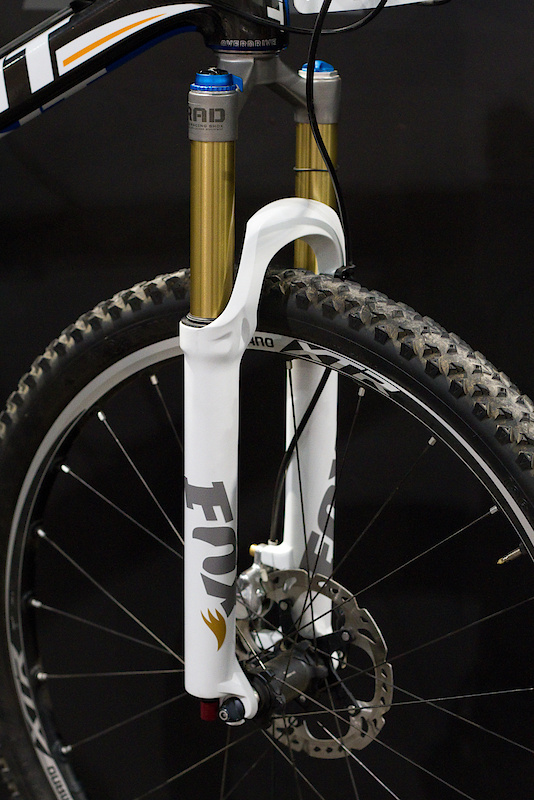 WOW. While checking out the DOSS post, Fox's Dan Robbins casually mentioned that I may want to check out something that was on display at the front of the Fox booth. You're looking at a one piece crown and tapered steerer that is made from a single piece of titanium. I don't think that it gets much cooler than this. While not saying that they will never have a similar unit in carbon, Fox does take some issues with using such a material for this point on the bike. I was told that by using titanium they were able to keep the same stiffness numbers, but shave 90 grams from the fork in one fell swoop. This is Adam Craig's personal bike that is equipped with the first ever completely built Float Ti fork. Start off with the one piece titanium steerer and crown, throw in some Kashima coated stanchions, add some matte white lowers, and you have what is possibly the raddest XC fork ever put together.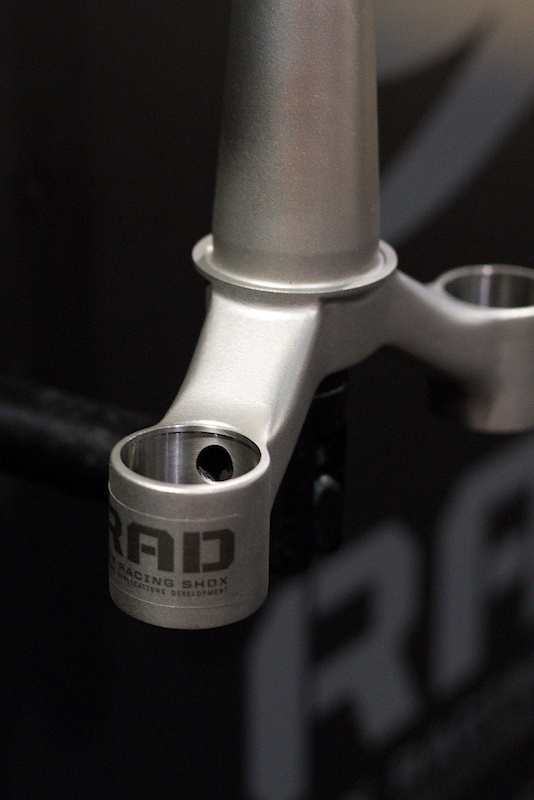 Listen to the audio for a bit of information on how Fox manufactures their titanium crown and steerer combo.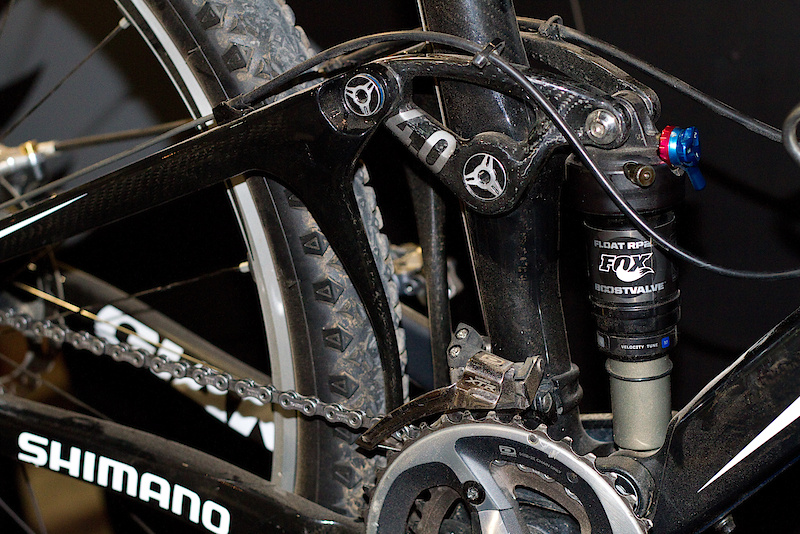 Adam Craig's bike again, but this time you are looking at the Fox rear shock. Dan was tight lipped about what was going on in there, but he assured me that it is quite exciting. Anyone out there have X-ray vision?
to see their entire lineup.