Towards the end of last year I was looking to film something that was a bit different from just the straight mountain biking freeride action that I normally do. Elisabeth owns a café restaurant in a small village just South of Munich (Miesbach), which has a theme color of pink, and suggested the idea of filming some summit cooking. She's passionate about cooking and, of course, after the filming I'd enjoy eating the food – I rarely get fed that well. We cycled up to the summit of a local hill, she cooked beef medallions "Filetpfandl", I filmed it and she posted it a week later on her FB page. The feedback and hits were great, many people saw it and found it refreshingly different.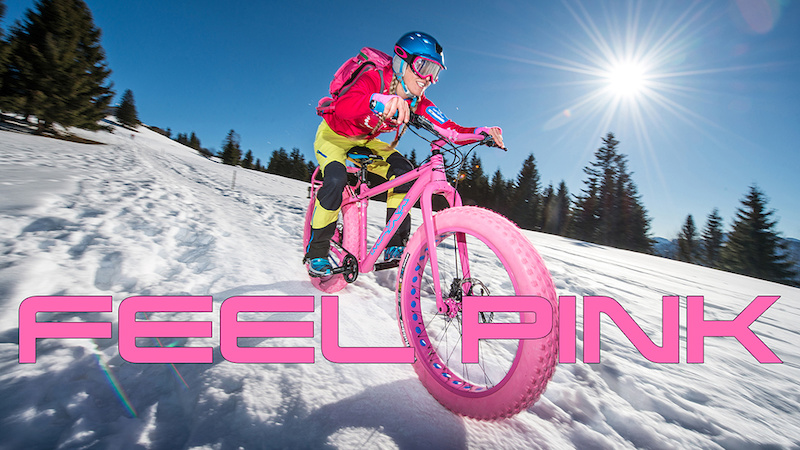 In the same time period I also shot a fat bike test for FREERIDE magazine and it was a MAXX fat bike that was featured. I was so impressed with the bike I called Uwe at their factory in Rosenheim and asked if he had any interest in making a video. Clearly he had and, after bouncing around a few ideas with different riders, he decided he wanted something different, not necessarily the usual freeride video but, instead, something showing more the lifestyle and usage of a fat bike. Impressed by Elisabeth's café, and the pink color scheme, he offered to make a bespoke fat bike for her in pink with her logos. We asked a tyre company if they would like to co-sponsor the video but they declined, replying that the fat bike scene is not really taking off and they already have so many requests to make fat bike videos that it's tedious. Strange. However, surfing around on the internet days later, Elisabeth spotted the pink tyres made by VEE Tire Co., so we sourced these to use in the video. We based the buying decision on color rather than anything else to do with air pressures, widths, floatation and traction.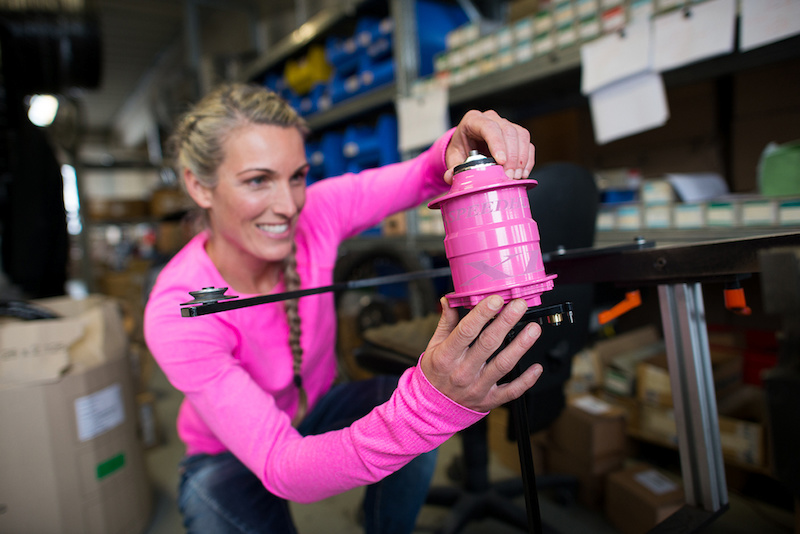 Uwe sourced all the parts, including a Rohloff that he powder coated pink just for fun, and invited us down to the factory for an afternoon to witness the build and to capture some video and pics. His company offers all kinds of color schemes for frames, so why not do the Rohloff in the same color as the frame would be? It was very interesting to start off with the raw frame ("Jagamoasta" hard tail ) and see how the powder coating, logo overlay and glazing are done. While the frame was in the oven (glazing) we met the best wheel builder in Bavaria (the second one I have met, there's also one in Munich), and saw how the fat wheels were put together. Once the pink tyres were pumped up we really knew that the whole build project and color scheme would really pop.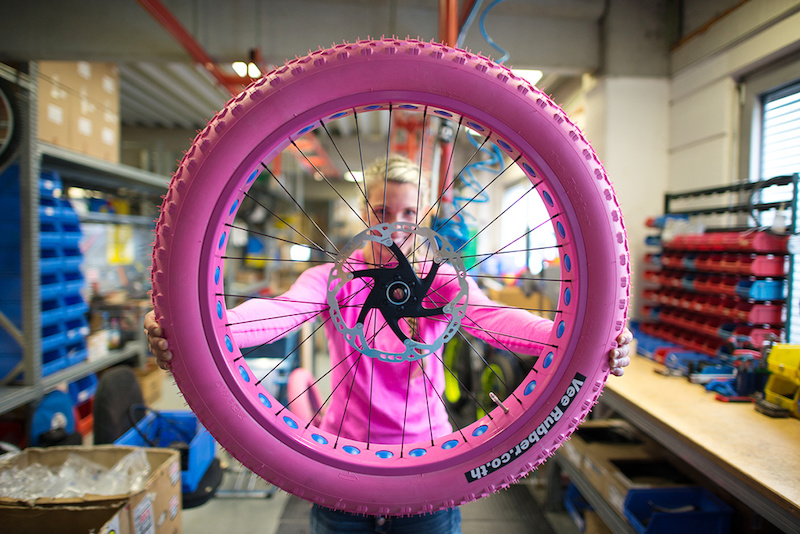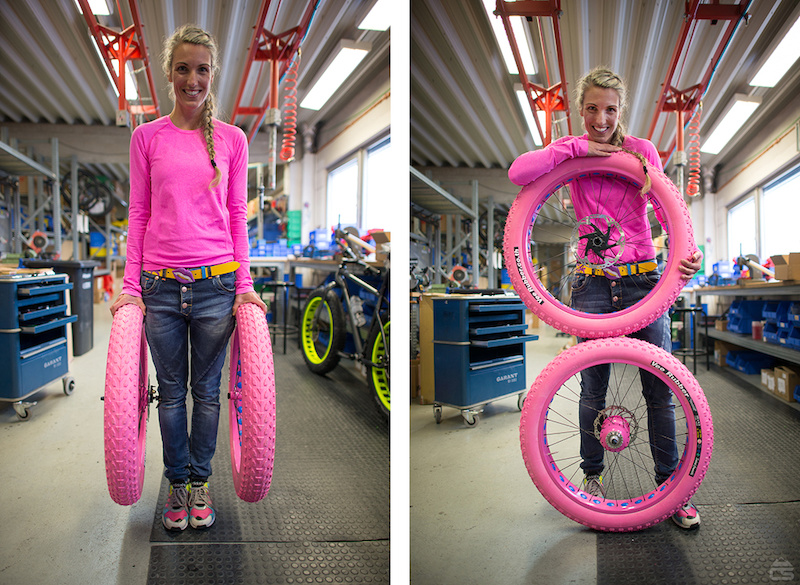 The freshly finished frame was presented shortly after and one of the other mechanics immediately went to work screwing on the components. It was one of the fastest and slickest builds I'd ever seen, and quite interesting watching how the belt drive was placed through the frame and the Rohloff setup. Lastly, a luggage carrier was bolted on and checked with a spirit level (I did wonder if this was an especially German thing). As the bike was finally taking shape many people in the factory were getting pretty excited, a crowd began to build in the workshop and even kids from a neighbouring crèche had their noses to the glass doors looking in with smiles. Elisabeth tried the bike for size, a couple of final adjustments were made and the bike was ready to roll.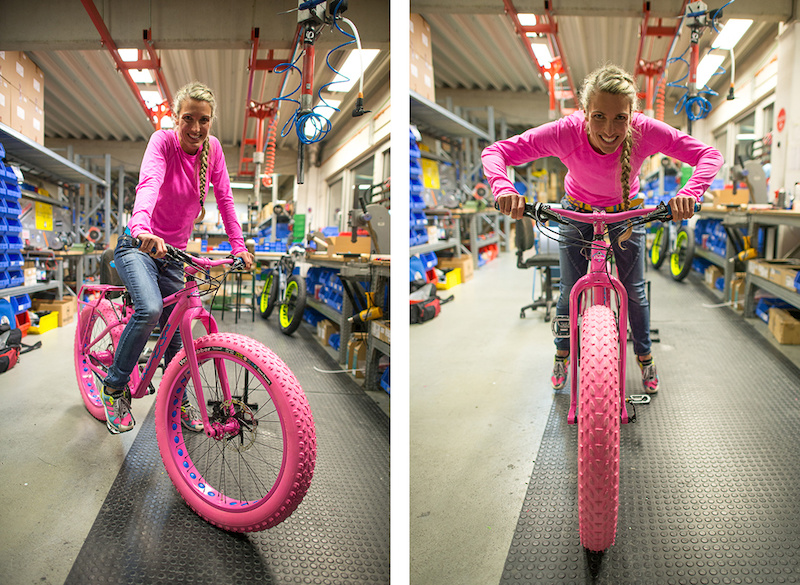 The idea for the main video came from the summit cooking that we had previously done. This time, instead of meat, we thought it would be really cool to cook fish on a stick over a fire, also to link that up with "catching" the fish from a frozen lake. We have friends locally that run a fishery business so it was quite easy to source some amazing fish and the right sticks to use. A lake nearby was frozen enough to cut a hole for the fish to spring out into Elisabeth's hands and, shortly afterwards, some cold beer also came up. How lucky we were fishing that morning, it was certainly a good catch.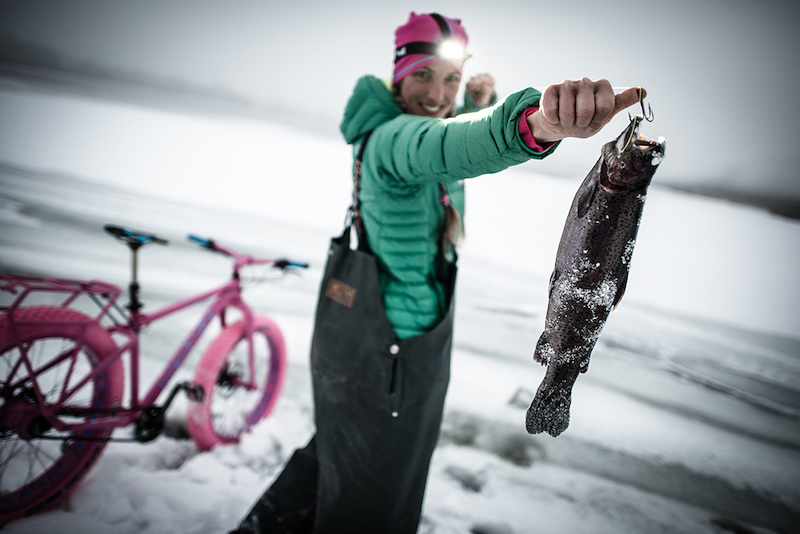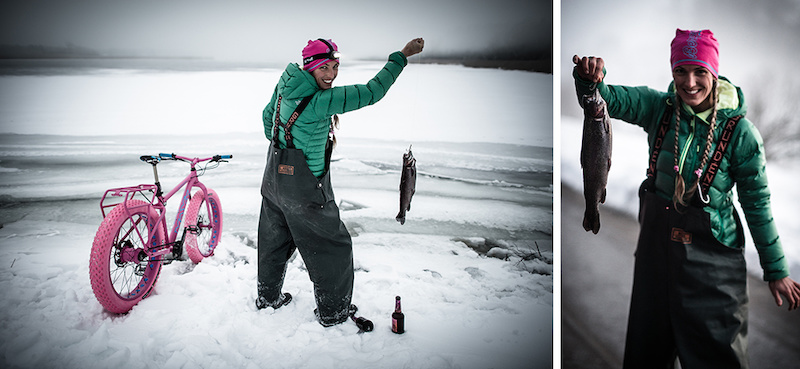 The riding was done on the Kampenwand, which is about 30 mins South of Munich via the autobahn. We have a great connection to Pauli at Gori-Alm who, after a quick phone call, helped us get set up and film from the hut and the surrounding piste. I was with my ski touring gear and Elisabeth was on the bike.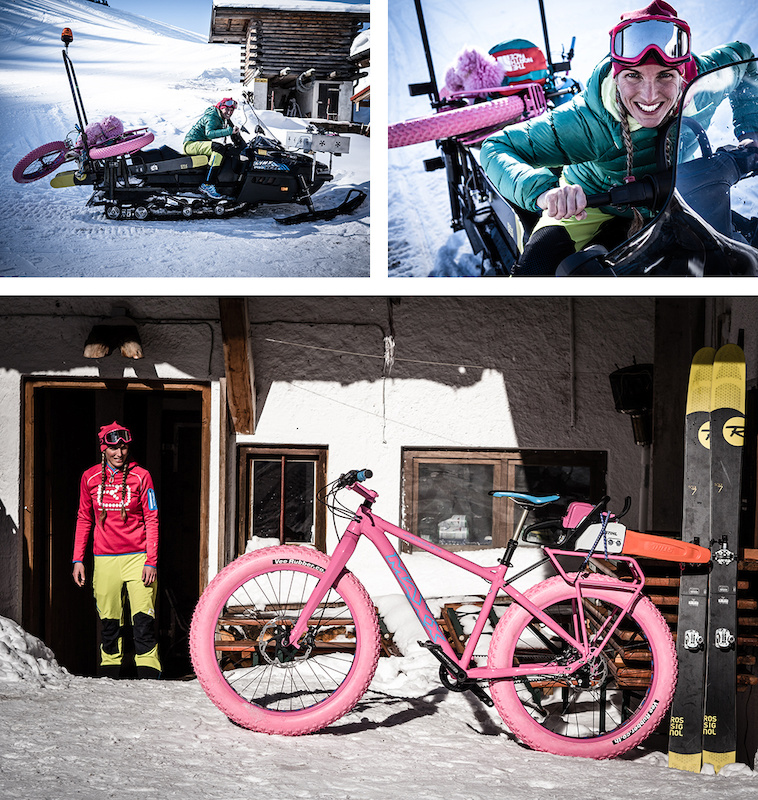 The snow was well groomed and hard enough to ride really well over the surface and, not too far away, was a fine little summit to start the fire, cook the fish and drink some beers. The fish turned out to be amazing and the mountain view, fresh air and whole situation seemed to make it taste even better. I had my DJI Phantom drone with me that day and, luckily, without any wind, I managed to get some cools aerial clips. It was late afternoon by then with the sun getting low and, on my FPV monitor, I immediately saw the shadow effect from above.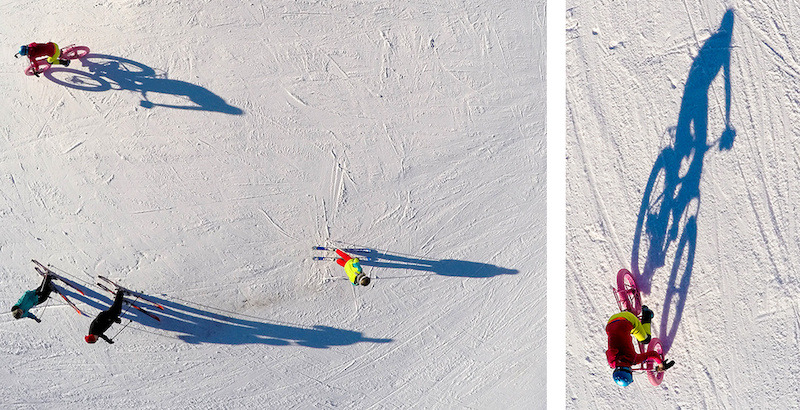 The final hot pot scene was actually filmed at Tegernsee on a different evening. We had a number of ideas for an ending, ranging from jumping into cold water at the lake, strange reverse slo-mo effects to hot tubs in comfortable hotels. Unfortunately, the latter didn't pan out, so we had to improvise. Elisabeth had the brain wave to use one of her neighbours old stainless steel milk pots as a hot pot and rolled it into her van with some bricks and fire wood. I was quite impressed with the plan, so we rolled the equipment on an old trolley to the lake, filled it with water and fired up the wood underneath.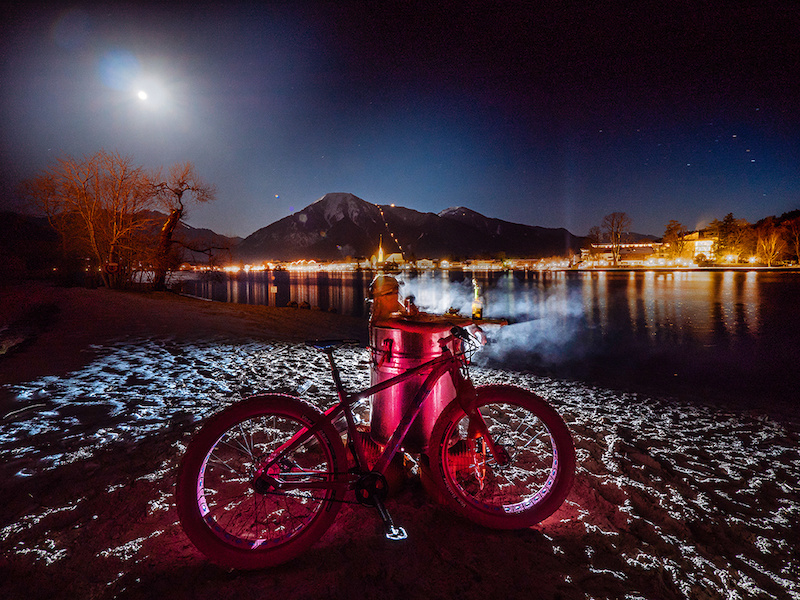 After about an hour the water was hot enough for us to film the last scene. It's a little on the dark side and, as a photographer, I would like to have used more light but unfortunately I wasn't allowed☺☺
Thanks to: Uwe and the whole team at MAXX bikes for working together with us. Mario at the VEE Tire Co. for the pink tyres, Rohloff for the HUB, Lupine for the amazing lights, Fischerei Tegernsee for the fish and, last but not least, my beer sponsor Hoppebräu, also located by Tegernsee.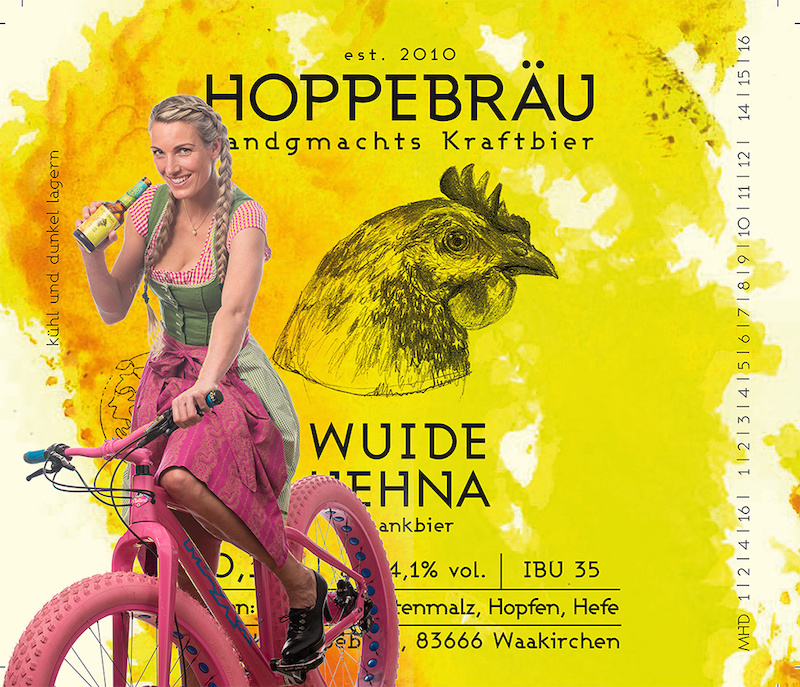 ---
MENTIONS:
@Big-Col
---