DAN-ROCKS
Member since Dec 26, 2019

Male / 20
Fairfax , Virginia
Block user
Recent

Dec 13, 2021 at 7:45
Dec 13, 2021

Selling
Dec 13, 2021 at 7:31
Dec 13, 2021

Dec 11, 2021 at 5:47
Dec 11, 2021

Dec 1, 2021 at 4:26
Dec 1, 2021

Nov 28, 2021 at 11:53
Nov 28, 2021

Selling
Nov 28, 2021 at 11:48
Nov 28, 2021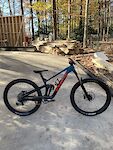 $3400 USD
Selling 2021 Trek Slash 8 large frame, 29" F and R. If purchased before Dec13 I will pack it for free. If purchased after, It will cost an additional $70 to pack the bike at a shop (I am leaving the country). I have not rode the bike ONCE since the first original post date. Geometry specs can be found at the link here: https://www.trekbikes.com/us/en_US/bikes/mountain-bikes/trail-mountain-bikes/slash/slash-8/p/32993/ Fork lowers serviced a few days before listing, rode about 4 times since then. Seatstays were replaced a few days ago since the old ones were suuuper scratched up from chain slap. I would recommend wrapping a tube around the drive side seatstay to the next owner. R tire is about a week old R wheel was rebuilt last week to a new rim because old one was quite wobbly Shock air can was serviced about a month ago. Cassette is halfway through it's second chain (replaced at .5). New shift cable From front to back: 29" Maxxis DHF DD MaxxGrip (about 50% life left as seen in picture, full disclosure it has a wobble) Bontrager Line Comp 30 wheel Sram Code R on a 200mm rotor (makes a little noise) Fox 38 Factory Grip2 took the stickers off (upgraded from the stock Lyric select +) Bontrager AL bars 35mm clamp 15mm rise 4 degree sweep cut to 800 Oury Lock on grips Bontrager 40mm Knock block compatible stem (knock block not installed) Rockshox Super Deluxe Ultimate w Thru shaft (Lockout, 3 lsc settings, 11 lsr settings) TransX 170mm dropper GX Eagle drivetrain (shifting is 8/10) Sram AL 34t chainring Sram Code R on a 200mm rotor (upgrade from 180 stock, makes some noise) Bontrager Line Comp 30 on a Bontrager rapid drive 108 6 pawl (upgrade from stock 3 pawl) Cushcore in rear Schwalbe Big Betty Addix Soft Free goodies (if wanted): Down tube storage pack comes with a tire lever and multitool and digital tire pressure gauge. Extra derailleur hanger Will send the other Cushcore if desired. Will throw in new chainstays (not scratched) and used extra rocker link if desired. Or honestly even if you don't want them. I'm running out of space in my room for bike parts. The paint damage on the top tube is noticeable (pictured), as well as the paint damage on the non drive chainstay (also pictured). Please text me at the number provided if interested or if you have questions.

Nov 26, 2021 at 18:58
Nov 26, 2021

Nov 26, 2021 at 18:57
Nov 26, 2021

Nov 23, 2021 at 20:23
Nov 23, 2021

Nov 10, 2021 at 19:10
Nov 10, 2021
Load more...