MadMick
Member since Jul 19, 2008

Male / 33
Strasbourg , France
"One of the first conditions of happiness is that the link between Man and Nature shall not be broken. " Tolstoy
Block user
Recent

Selling
Sep 23, 2017 at 6:51
Sep 23, 2017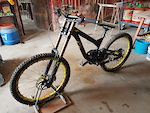 $2000 EUR
Polygon dhx de 2015, acheté neuf en 2016 (en carton, zéro sortie, valeur 4999e) - fiche technique et renseignements strictement identiques au vélo d'origine, détail ici : bigbike-magazine(point)com/vtt-2015-polygon-collosus-dhx Films de protection immédiatement posés sur le cadre avant usage. 4 journées en bike park en 2016 moins de 10 sorties au total, 0 sortie en 2017. État proche du neuf. ... le prix n'est à débattre que dans la mesure où l'expédition est offerte en métropole (comptez une centaine d'euros pour un transport type dhl). Aucune expédition hors territoire métropolitain, encore moins à l'étranger. Paiement par virement bancaire ou - de préférence pour tout le monde - Paypal. Aucun échange, pas de troc contre un iphone ou une collection de vinyles/timbres/chaussettes sales, pas de chèque et pas de cash, pas de mandat cash ni carte pcs. Vélo visible sur la région de sarrebourg (57) au besoin. S'agit d'un "petit" taille L : convient aux personnes entre 1m70 et 1m85. Me contacter pour toute question mick.dh/at/laposte.net

Jul 2, 2017 at 6:33
Jul 2, 2017

Selling
Jul 2, 2017 at 6:28
Jul 2, 2017

Feb 16, 2016 at 0:54
Feb 16, 2016

Oct 19, 2015 at 8:59
Oct 19, 2015
Paul Bas - This Is Not An Injury Update
Deeply sadened by the news yesterday... Paul Bas is and will always be a massive part of this sport, and I can't believe he went down so hard. So, if there is any chance you can read our messages, Paul, be sure I will keep you in my prayers. I wish you a speedy recovery, and know that you will be strong enough to fight, each and every day ! Bless you ! ... #Irideforpaul

Dec 29, 2014 at 5:51
Dec 29, 2014
Movies For Your Monday
Damn, f*cking weather... Here it snows, and it's freezing cold ; Let's hope there will be light rain, or cloudy, as I would like to make a day&night photo trip in Alesund for 3 days... Pictures from my hotel room could be boring, I guess. Thanks for the tips ! Cheers !

Dec 6, 2013 at 5:18
Dec 6, 2013
Characters 7: Tara Llanes - The Warrior
thanks for the article. Enough said : Tara, you're such inspirational ! We'll probably never know how much it takes to do half of what you did these years... no words, no need... you ARE "bravery", "confidence", "strength" and "will" ; thank you !

Nov 20, 2013 at 6:40
Nov 20, 2013
Steffi's China - Part Two - Panda Mania
haha thanks for your reply ! I have somekind of "special" job, which takes me time, alot, but, anyway, these are excuses you're right :) I already have planned some trips around sanqingshan national park & guangxi area, 'cause of some beautiful pictures I found here and there... Well, for 2014 it will be India, maybe 2015 ;) ...too many places I would like to travel to, but I will probably need extra-lives to see 'em all !

Nov 6, 2013 at 12:50
Nov 6, 2013
Steffi's China - Part Two - Panda Mania
Absolutely stunning pictures... And amazing story too ! With or without a bike, there are so many beautiful places to visit .. Wish I could have enough time to do it, I would probably spend my entire life traveling and meeting new people / new landscapes !

Nov 5, 2013 at 10:46
Nov 5, 2013
Load more...