Ozziefish
Member since Apr 4, 2012

Male / 26
Edinburgh , Scotland
Why do bikes need so much TLC... Time and Lots of Cash? D:
Block user
Recent

Selling
Oct 1, 2022 at 6:24
Oct 1, 2022
$1 GBP
Free to a good home, just pay postage - seatpost is stuck down.

Selling
Sep 21, 2022 at 10:02
Sep 21, 2022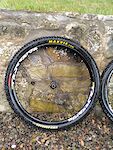 $40 GBP
A few scrapes and one noticeable ding, but still running strong. Comes with 26'' high rollers in pretty good condition.

Selling
Sep 21, 2022 at 9:46
Sep 21, 2022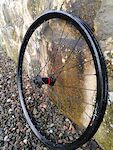 $40 GBP
Barely used dirt jump wheels. No front disc mount. Hubs are novatec/rebranded novatec. All running strong and true.

Selling
Sep 6, 2022 at 9:56
Sep 6, 2022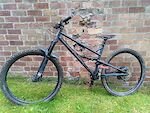 $1290 GBP
Maximum flare. Flarimum max. Max your flare with this hot grey Cotic Flaremax. One well-loved Cotic FlareMax, ridden for two seasons then neglected as I moved away from the trails :( Frame bearings just replaced this week! Wheel size: 29-inch Suspension (front/rear): X-Fusion Trace 36 HLR 140mm travel, 44mm offset/ Cane Creek Double Barrel Inline Air 50mm stroke 125mm travel Drivetrain: SRAM GX Eagle Brakes: Shimano XT two-pot brakes with 180mm rotors [Brand new pads and fresh bleed!] Tyres: WTB Vigilante front, WTB Trail Boss rear Seatpost: Raceface Aeffect 150mm drop Wheels: Hope Fortus 26 rims with Hope Pro 4 hubs Bar/stem: Cotic Saddle: Cotic Drop me a message, let's do a deal!

Nov 29, 2021 at 4:37
Nov 29, 2021

Nov 23, 2021 at 2:48
Nov 23, 2021
Porsche Acquires Majority Stake in Greyp eBikes
@Jprestidge: You raise a good point. Restrict the media, conscript civilians, completely reorient the economy to war, ship thousands into camps. And that was just the British government in the face of a political movement in the 20th century. Sometimes, against an existential threat, otherwise terrifying illiberal ideas suddenly make a lot more sense.

Nov 10, 2021 at 1:49
Nov 10, 2021
Are Bike Brands Greenwashing? We Asked An Expert
@fatduke: "although Europe imports 39m tonnes of soya a year [...], 90% is destined for animal feed. It's beef rather than veggie burgers that ate all the soybean." (https://www.theguardian.com/environment/2009/jun/21/ethical-living-soya)

Selling
Oct 19, 2021 at 1:00
Oct 19, 2021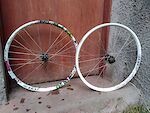 $50 GBP
Still both running true with no dings and few scratches, absolutely bombproof wheelset. Only note is that the front rim has been stickered and is now looking a bit tatty for it - although a bit of time with some acetone would tidy it right up.

Selling
Oct 19, 2021 at 0:56
Oct 19, 2021

Oct 9, 2021 at 14:00
Oct 9, 2021
Load more...