aaroncouture
Member since Aug 24, 2008

Male / 52
Boise , Idaho
Fireman in Boise. Been Mtn biking for 30 years. The older I get....The faster I was!
Block user
Recent

Selling
Jan 20, 2021 at 17:58
Jan 20, 2021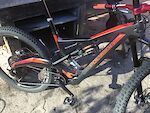 $2800 USD
2018 Polygon XQUAREONE EX9 for sale here. Excellent condition. Nice spec: Polygon frame with a Fox Float X2 AND an Ohlins TTX coil shock with a custom tune! RockShox Lyrik fork. E*Thirteen TRS Race Carbon wheel set (tubeless w/Cushcore). TRP Quadiem 4 piston brakes (203mm f/180mm r). Crankbrothers HiLine dropper post. Shimano XT 12spd derailleur and shifter. E*Thirteen 9-50 tooth cassette. YBN chain. Shimano SLX cranks 175mm with 32 tooth chain ring (these are brand new). Spank Vibrocore bars (780mm) and Spank Stem. WTB Silverado saddle. VEE Flow Snap 2.6" front tire. WTB Breakout 2.5" rear tire. Bike is in great shape and ready to rip. Yes, look is polarizing, but it rides amazing! Ohlins coil shock makes it even better and opens up bike to bigger folks who couldn't get air shock to work. Has 180mm travel, but can be pedaled all day. Climbs very well and traction on descents is unmatched IMHO. Selling because I have a size large bike with same suspension that fits me better. Open to offers that are reasonable. Pedals not included.

Aug 17, 2020 at 18:08
Aug 17, 2020

Aug 15, 2020 at 10:09
Aug 15, 2020

Apr 2, 2020 at 12:36
Apr 2, 2020
Trust Performance Ceasing Operations Effective Immediately
Ha! I actually have one on my Ploygon Squareone EX9! I should throw the Spengle wheels I use for my bikepacking rig on it too and see if I can make people throw up at the trailhead! Would at least cover up the dog poop smell we have at many of our trailheads here in Boise.

Apr 2, 2020 at 12:20
Apr 2, 2020
Trust Performance Ceasing Operations Effective Immediately
I'm bummed, bought a demo Message at a great price and used the trade in on the fork it replaced to buy a Shout. Sold the fork the Shout replaced and ended up paying less than I would have for two forks from one of the big brands. Anyways, I'm a bigger fellow (250lbs) and really liked how they tacked and felt under me. Hopefully they make a comeback and can continue! Otherwise, I'll have a couple nice pieces for the mtn bike museum!

Mar 3, 2020 at 21:14
Mar 3, 2020
Tech Randoms - Crankworx Rotorua 2020
All these bike cleaners........has no one heard of Simple Green? How about Dr. Bronners and vinegar? The environmentally friendly options have been available for decades.

Jul 19, 2019 at 6:30
Jul 19, 2019

Selling
Jul 19, 2019 at 6:27
Jul 19, 2019
$1700 USD
Diamondback DB8. They came in a short and long version. This is the short. I'm 5'10" and it fit well. Definitely more of a park bike than a full on DH race bike. Great spec and bike is barely ridden. Getting long in the tooth and no longer need a dedicated DH rig. Pertinents: DB8 frame 200mm/8" of travel with a Fox Vanilla R shock ti spring. Fox 40 fork. Saint brakes w/8" rotors. Shimano Zee hubs and WTB I 25 rims/ tubeless. Chromag seatpost. Loaded bar and stem. Gravity cranks. Maxxis Minnion tires. Bike is mint! Needs to be ridden and fulfill its life's purpose!

Selling
Jul 11, 2018 at 16:24
Jul 11, 2018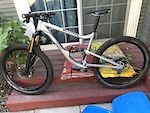 $2400 USD
Here is a well kept medium Guerrilla Gravity Megatrail. Built to be a super reliable bike that can do it all. Bearings in frame and headset are fresh. New pedals, and new seat. Cane Creek DB Coil has been rebuilt and has zero miles since then. Fox Float 36. Sun Ringle Charger Pro wheelset. Saint brakes. Spank stem. Answer Pro Taper bars 780mm. SRAM XO1 derailleur. E13 cassette. Race Face Respond cranks. Gravity Dropper Turbo LP seat post. Needs new home! I'm too busy riding new bike to ride this one.

Selling
Jul 11, 2018 at 16:00
Jul 11, 2018
Load more...