bblaney372
Member since Sep 30, 2016

Sault Ste Marie , Ontario
Block user
Recent

May 30, 2020 at 20:30
May 30, 2020

Feb 5, 2020 at 21:10
Feb 5, 2020

Dec 29, 2019 at 18:50
Dec 29, 2019

Nov 28, 2019 at 23:14
Nov 28, 2019

Oct 31, 2019 at 20:01
Oct 31, 2019

Selling
Oct 31, 2019 at 19:59
Oct 31, 2019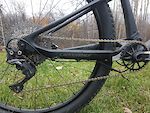 $3200 CAD
2018 Cannondale Scalpel-Si Carbon 3. Size Large. Very fast bike that is still shreddable and fun. New rear suspension pivot bolts and bearings. New Stan's NoTubes Crest rims and new wheel bearings this year. Fork has recently been serviced by S4 suspension. Bontrager 125mm Drop Line dropper post. Shimano XT brakes and drivetrain. 30 tooth front sprocket and 11-46 tooth rear cassette. Similar low gear ratio to SRAM Eagle. New cassette this summer. Full lockout front/rear suspension. Asking $3200.

Oct 31, 2019 at 17:34
Oct 31, 2019

Selling
Oct 31, 2019 at 17:33
Oct 31, 2019

Jul 7, 2019 at 20:43
Jul 7, 2019

Apr 29, 2019 at 8:07
Apr 29, 2019
Final Results: Maribor DH World Cup 2019
Agreed. Redbull c'mon you're smarter than this. Was very disappointed to have the results spoiled when I opens their streaming app. C'mon guys!!! Just say winning run and have a generic thumbnail. But rad coverage thx for that for sure.
Load more...