In its second year at Crankworx Whistler, the GoPro Dirt Diaries have undergone a format overhaul that puts the creative and storytelling control in the hands of professional riders. Six mountain bike athletes have been chosen to compete in the video contest and each has been tasked with hand-picking their own team. The crews will be given seven weeks to create 4-6 minute videos that tell a story to be screened on Tuesday, August 13, 2013 in Whistler's Olympic Plaza in front of a live audience.
Last year's winning edit
:
Below is the list of riders who have been selected to compete in the GoPro Dirt Diaries at Crankworx Whistler in 2013. Selected riders were required to announce their chosen filmmakers before the June 1 filming date; further rider rosters (teams must be of six or less) will be released through Crankworx social media channels in the coming days.
· Rider: Richie Schley with 2012 GoPro Dirt Diaries Champion and filmmaker,
Leo Zuckerman
· Rider: Mike Hopkins with filmmaker
David Peacock
· Rider: Kenny Smith with filmmaker
Matt Miles
· Rider: Katie Holden with filmmaker
Matt Dennison
· Rider: Ryan "R-Dogg" Howard with filmmaker
Goldstein Productions
· Rider: Geoff Gulevich with filmmaker
Ross Measures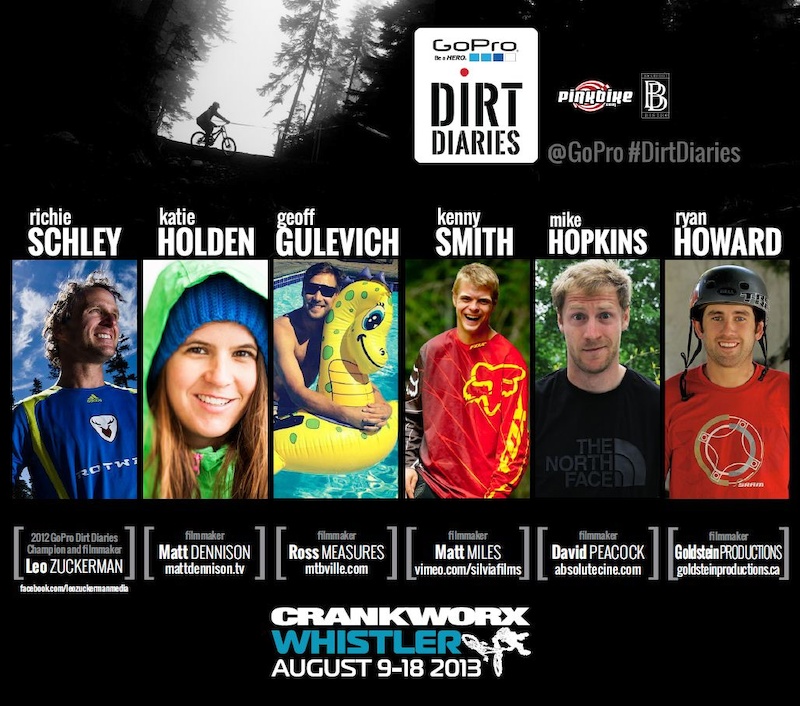 | | |
| --- | --- |
| | After we announced the format change for the 2013 GoPro Dirt Diaries at Crankworx Whistler, we got to work to gather a diverse group of incredibly skilled and focused riders, the GoPro Dirt Diaries is essentially a few contests rolled into one: riders have to ride in their own edits, they are tasked with sourcing a worthy team to collaborate and film with and they have to tell a story to our audience. |
-
Crankworx General Manager Darren Kinnaird
Teams assembled by each invited rider will start filming their edits for the GoPro Dirt Diaries on June 1. Submissions must be handed in on August 5 and will air in front of a crowd and an expert panel of judges at Whistler Olympic Plaza on Tuesday, August 13. Priority seating and close sightlines to giant HD screens will be on offer with a number of ticketed seats available for $5. $5000 is on the line for the first place video, $3000 for second place and $2000 for third.
The filming process for each team can be tracked throughout June and July by checking out
@GoPro
#DirtDiaries
on Instagram, www.crankworx.com/dirtdiaries or by looking at facebook.com/crankworx.
August 9-18, 2013, the world's best downhill, slopestyle and enduro riders will migrate to the Whistler Mountain Bike Park for the 10th Annual Crankworx Whistler. Crankworx Les 2 Alpes will take place July 6 – 14, 2013 and is the only Crankworx event to take place outside of North America. High-summer's convergence of all things freeride, Crankworx is a 10-day festival of epic endurance, supreme flow, monster air and vertical-dropping riding. A time-tested stage for gravity-fed mountain biking, Crankworx has forged the future of freeride, launched careers and raised up a spectacle out of dirt, sweat and cheers. Feel the impact. Embrace the amplitude. Experience the awe that is Crankworx Whistler 2013.