el-brendo
Member since May 23, 2011

Male / 33
Chilliwack , British Columbia
Block user
Recent

May 21, 2020 at 21:57
May 21, 2020

Apr 26, 2020 at 8:58
Apr 26, 2020

Selling
Apr 3, 2020 at 17:16
Apr 3, 2020

Mar 21, 2020 at 18:46
Mar 21, 2020

Selling
Mar 21, 2020 at 18:46
Mar 21, 2020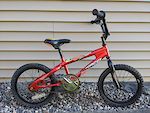 $40 CAD
2013 Norco Mity Macho BMX for sale! Has 16" offroad tires, coaster brakes. Great for starting out on a pedal bike, ripping around the park, or shredding up a campground. Needs nothing, rides great!

Selling
Mar 18, 2020 at 17:27
Mar 18, 2020

Mar 14, 2020 at 11:18
Mar 14, 2020

Selling
Mar 14, 2020 at 11:17
Mar 14, 2020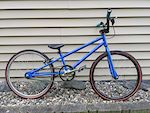 $100 CAD
Ready for race season! Despite having a great time at the track, our son decided he'd rather do mountain biking instead of bmx racing. We don't know what year it is, but it is a Free Agent bike. It has aftermarket stem, FMF handlebars and ODI lock on grips. Tires are in great condition. Brakes are functional, but a bit mushy, you'll likely want to change out the cable. Drivetrain is in great condition. Edit: I noticed the headset is a bit "notchy". Not sure if that needs grease or what. It's still rideable, my son never mentioned anything. I can meet in Chilliwack or Abbotsford for pickup. Thanks for looking.

Mar 10, 2020 at 21:56
Mar 10, 2020
Load more...