flyfarskidfarther
Member since Oct 18, 2011

Male / 26
Pacifica , California
Got a Scott Voltage, still getting it dialed.
Block user
Recent

Dec 4, 2021 at 13:48
Dec 4, 2021

Selling
Jan 9, 2021 at 19:03
Jan 9, 2021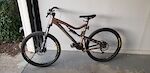 $1100 USD
This is a badass frame, and it is in great condition. Don't let the year fool you, I honestly don't know what year it is, but from what I can find, that seems to be the oldest it could be, but it might be a 2012. I got the bike from a buddy of mine and it's been my girlfriends bike for the last 2 years, she is a 5' 3" woman, and she was not exactly thrashing this. The frame seems to be in amazing shape regardless of the age. I've owned a few Santa Cruz bikes over the years and this seems to compare with everything I've owned, the only reason we're selling is because the frame is way too big for my girlfriend. All that said, there is a few things to note, the rear shock is set for a small person, so just borrow a shock pump and you're good. The fork needs a rebuild, seals and oil at least. If you know pedals you know wellgo pedals are garbage, so pretty much literally anything else will be better. The rear brake needs new pads before you take it on a ride with any real hills, it's loud and wont fully stop you. The shifter is not a nine speed shifter, but you've got a 9 speed cassette, so it's adjusted so you wont shift off the cassette, but there is a gear it has trouble with, pretty much all the rest are fine. Also, I don't happen to have any locktight, but the left crank falls off like once a year. i just tightened it down real tight, so just keep an eye on it. Also the tires are getting low on tread. that's about it. That's just about all the bad, here's the components, make an offer, come for a test ride. Components: Fox TALAS RLC Fork Fox Float RP23 rear shock Shimano deore st deore st hubs front and back Shimano disk brakes front and back Shimano shifter and brake levers Gamut bashguuard and chainstays 1x9 gearset Shimano Acera derailleur FSA Maximus crankset and handlebars Wellgo pedals Easton Havoc neck Chris King headset Promax Seat tube 14" Norco Seat Random grips, idk what they are, but i got some others we can swap on there if you want.

May 16, 2016 at 10:14
May 16, 2016

Apr 5, 2016 at 10:47
Apr 5, 2016
Graeme Pitts Taking Hits in Napa and Pacifica - Video
There are way better jumps and trails in pacifica right there, and this fool chose that shit?! He featured a wall ride but didn't ride the wall, he hit a big jump and then showed the smallest jumps on the trail! Next time someone films in pacifica (or napa never ridden there but there have got to better trails than some random grassy stuff), they need to hit the real trails.

Mar 12, 2016 at 14:43
Mar 12, 2016

Selling
Mar 12, 2016 at 14:40
Mar 12, 2016

Dec 24, 2015 at 14:57
Dec 24, 2015

Dec 24, 2015 at 14:55
Dec 24, 2015

Selling
Dec 24, 2015 at 14:25
Dec 24, 2015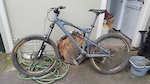 $800 USD
This is an awesome bike, I don't ride as much as I'd like to, but this thing is riding amazing right now. and the bike is in Santa Cruz. A few components: Hussefelt handlebars and neck Anvl grips Thomson seatpost Chris King headset SRAM cassette and chain Brand new, bought today, no pics yet. Shimano deore xt derailleur RaceFace cranks Blackspire bashguard and tensioner Forte pedals Front/back brakes are both mechanical Avid 5 disc brakes, but the back lever is Hayes. Ringlé front hub, sunrims eight track front wheel Halo Chaos back wheel Intense DH tires 2.50 Rockshox Domain 180mm 5th element coil shock Brand new gearset and chain with tune up, fork is new as well, just bought and installed. Scratches are %100 cosmetic, frame its still solid. All work was done by a professional, it's a straight up beast, confident on the rock gardens, and in the air. Also, I took most of the stickers off. I am looking for an enduro or a geared dirt jumper, just ask if you're interested in trading

Jan 12, 2014 at 23:51
Jan 12, 2014
Load more...