hatton
Member since Sep 28, 2011

Male / 34
Boston , Massachusetts
Block user
Recent

Nov 23, 2020 at 15:34
8 hours
Video: Pushing Hard on a Downcountry Bike
50T is great for Enduro when you ride an Enduro bike and want to only be fast for 5min downhill. Personally, if I dropped 6k on a 120mm bike I might, you know, want to ride fast uphill, over technical sections, etc.

Nov 22, 2020 at 4:02
2 days

Nov 16, 2020 at 8:51
Nov 16, 2020

Nov 13, 2020 at 11:47
Nov 13, 2020
The Pinkbike Podcast: Episode 30 - Would You Rather?
How do you go about choosing a Curling Camp? What are some things you should consider before choosing a curling camp. Are there any exciting innovations occurring in the world of curling camps (e.g. all inclusive tim hortons packages)?

Jul 26, 2020 at 20:00
Jul 26, 2020

Feb 20, 2020 at 6:26
Feb 20, 2020

Dec 8, 2018 at 12:57
Dec 8, 2018

Selling
Dec 8, 2018 at 12:55
Dec 8, 2018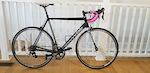 $875 USD
2016 Cannondale CAAD 12 58cm, fits me well at 6'1.5, plenty of legnth left in the seatpost Bike is stock except for wear points (Chain, tires, grip tape) replaced brake and shifter cables ~200 miles ago https://www.bikeradar.com/us/road/gear/category/bikes/road/product/review-cannondale-caad12-105-49861/ Bike is in good shape, shifts are sharp, tires are relatively new and a big upgrade vs stock. a few small scratches from leaning it up against the wrong thing and having it fall down. All in bike has ~3500 miles on it and many more to give. Killer entry level bike, ready for long club rides or races. Will include basic flat pedals in sale, can wrap new bar tape if you're not into the pink.

Oct 15, 2018 at 6:56
Oct 15, 2018

Selling
Oct 11, 2018 at 10:27
Oct 11, 2018
Load more...