iamthechad
Member since Feb 7, 2005

Victoria , British Columbia
Block user
Recent

Apr 4, 2021 at 14:37
Apr 4, 2021

Selling
Apr 4, 2021 at 14:36
Apr 4, 2021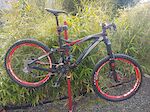 $1500 CAD
On this bike I was able to onsite every hard line on Upper Oil Can in North Van and then later on the same trip outpace someone on flat, rooty ground who was training for the BC Bike Race. It's short enough to actually be able to maneuver, light enough to climb, and it jumps and drops beautifully. This 17.5 inch frame is what Trek calls a "virtual" large. I am 5'10" with a 32" inseam. Wheels are DT Swiss ex500 rims on 440 hubs with alpine triple butted spokes. I have 2.6 inch Kenda Kinetics set up in a "ghetto tubeless" system that's super light weight. Rear shock is a Fox DHX Air that makes the travel feel bottomless thanks to the Full Floater linkage. The front has a 2006 Marzocchi 66 SL. It's made in Italy and has multiple air chambers to control progression and spring rate, negative preload and bottom out resistance. I'm including a second, whole spare fork too. Brakes are 4 piston Saint 810s . Drive train is set up as 2x9 with SRAM X7 shifters, and an X9 rear derailleur. The cassette is a titanium XTR. The dropper post is a Reverb with a WTB Silverado Thinline on Ti rails. Cranks are Race Face Atlas, stem is a Synchros, bars are Chromag and pedals are Wellgo. I can ship at the buyer's expense. And it will be expensive so of course local sales are preferred.

Aug 14, 2017 at 14:44
Aug 14, 2017

Selling
Aug 14, 2017 at 14:35
Aug 14, 2017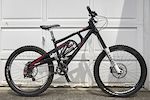 $600 CAD
Top shelf parts and in excellent condition. I bought the frame after it had just been professionally refinished with some sort of ceramic powdercoat that is bombproof and looks amazing. Brakes are Shimano Saint 810 4 piston with 8 inch rotors. Shifter and derailleur are Shimano Saint 810 9 speed. 2007 Marzocchi 888 RC2X VA 8 inch fork made in Italy. Elka Stage 5 rear shock providing 10.5 inches of rear travel on a floating pivot. Extra linkage and bearings are included. Shimano DX flat pedals. Truvativ Hussfelt crank and bottom bracket. Gamut chain guide. DT Swiss FR 6.1D rims on DT Swiss 340 hubs. 32 DT Swiss Alpine triple butted spokes per wheel. Kenda Nevegal Stick E DH tires with less than half a dozen rides on them. Race Face XY seatpost. THE saddle. DMR Wing handlebar (about 780 mm I think). ODI Ruffian lock on grips. The cassette in the picture is not included. I do not have a proper downhill cassette to install on the bike. The bike needs new rear shock mounting hardware, hence the low price. You will need a new main pivot bolt and frame spacers for the shock. I'm willing to part it out and ship any combination of parts together. I've ridden it for less than a week after building it up last year. I'm just not downhilling anymore so someone else needs this machine more than I do. If the ad is still up, it's still for sale. The bike will only be shipped after a Paypal payment has cleared from a verified address. Shipping will be expensive, somewhere in the $150 to $300 range or more, depending on where it's going.

Selling
Aug 14, 2017 at 14:12
Aug 14, 2017

Selling
Apr 25, 2015 at 12:03
Apr 25, 2015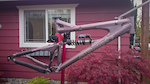 $400 CAD
I bought this off of someone who purchased it brand new to use as a cross country frame. Needless to say, though it pedals well, it was too much bike and so he only rode it a couple of times. It sat around my storage for a few years and I only built it up a couple of years ago. With me it's seen a couple days in Whistler and a couple of local rides and that's it. I have another bike that handles my freeride duties and I've built up another dedicated downhill bike, so I don't really need this one. It's in immaculate condition. If the ad is still up, I still have it. Shipping is with Paypal only. Shipping will be $50 to western Canada, $60 to eastern Canada and $70 to the USA.

Selling
Apr 25, 2015 at 11:52
Apr 25, 2015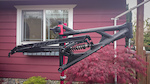 $300 CAD
This is the Batmobile of mountain bikes. It's built like a tank but can climb like an all mountain bike. I love it and it's in pristine condition, but I'm upgrading my fleet. 1.5 head tube and 135 mm rear spacing. Rear can be changed to 150 x 12 with different drop outs. 170 mm travel. Paypal only if shipping. If the ad is still up then I still have it. Shipping is $50 to western Canada, $70 to eastern Canada and $90 to the USA. I can include an Acros reducer headset for another $40 (it's a $150 headset).

Selling
Apr 25, 2015 at 11:44
Apr 25, 2015
$350 CAD
This frame retailed for $2600 only 4 years ago. (http://www.norco.com/archives/2011/?id=range-1-frameset) Only selling because I have a 170 mm Trek Scratch Air which overlaps too much with this bike so I went for something with less travel. Frame comes with tapered Cane Creek headset. There are small depressions in the top tube (top and bottom) from a bike rack. The largest one is pictured. There are some marks on the chain stays as well. There are no cracks and I had no issues riding it for a year like this but because of these blemishes, I'm letting it go for a song. Sale is final as this is a used frame. Paypal or email transfer only if shipping. If the ad is still up, then I still have it. Shipping is $60 to western Canada, $80 to eastern Canada and $100 to the USA.

Selling
Apr 25, 2015 at 11:37
Apr 25, 2015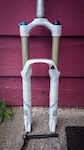 $150 CAD
140 mm air sprung travel with dual travel adjust. 200 mm tapered steer tube. 15 mm axle. Excellent condition. Paypal only if shipped. If the ad is up, I still have it. Shipping is $30 in western Canada, $40 for Eastern Canada and $50 to the USA with insurance and tracking.

Selling
Jan 28, 2015 at 18:10
Jan 28, 2015
$320 CAD
199 mm tapered steer tube. Excellent condition. I bought it used and rode it for only half a season. I don't know when the last service was done but it functions perfectly. Only mark on the stanchion is a 2 mm nick on the right leg. No leaks. Price is firm. Shipping is $40 for Western Canada, $50 for Eastern Canada and $60 for the USA. I only accept Paypal if shipping.
Load more...