kent-b
Member since May 24, 2015

Male
Revelstoke , British Columbia
Block user
Recent

Selling
Jun 27, 2022 at 13:36
2 days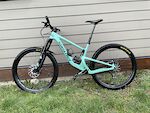 $6200 CAD
Minty Green, Large Megatower Carbon C S-Build with RockShox Super Deluxe Coil Select+ 500 The basics: Wheels: 29" Fork: Fox 36 Float Performance 160mm (added two volume spacers to make them perrrrfect) Shock: RockShox Super Deluxe Coil Select+ 500 (so supple. much traction) Drivetrain: SRAM GX (crisp!) Brakes: SRAM Code R (so much stopping power on these big rotors!) - This bike treated me well, making it a hard departure. Owned by someone who's not the most aggressive rider. Fit me great at 6'1". - The bike spent most of its life climbing around Cumberland XC trails and a handful of cruisy laps at RMR. Pedals so well - the way the linkage sets up when you apply torque to the cranks it nearly feels like pedal assist. Purchased end of season 2019 with full service every year since. June 2021 had the front triangle replaced through warranty (clear coat issue) plus complete service of shock, fork, brakes, new bearings - has seen about 10 rides since then. New rear tire. - Pick up in Revelstoke. Will bring to Vernon or Kelowna for no charge, or buyer pays shipping elsewhere in Canada.

Jun 17, 2022 at 17:23
Jun 17, 2022

Mt Abriel (s'fun!)
4.8 km - 00:37 - 2 achievements

Jun 5, 2022 at 14:08
Jun 5, 2022

Jun 3, 2022 at 21:35
Jun 3, 2022
Load more...