lucaj
Member since Feb 22, 2012

Male / 35
Sheffield , United Kingdom
Me
Block user
Recent

Selling
Jul 27, 2020 at 15:08
Jul 27, 2020
$150 GBP
Hi, I'm after a 29er wheelset, old standards (15x100 and 135x10/qr). I'm after something with a 23mm to 29mm internal rim width. Hoping to pay between £100 and £150 depending on the quality. Anyone got anything that fits the bill they want rid of? Thanks, Luca

Jun 21, 2020 at 4:52
Jun 21, 2020
Video: In-Depth Analysis of Flat Pedal Efficiency with the Strength Factory
@just6979: don't worry - i learnt how to jump on a bmx! And when i say tighter turns, i mean at very slow speed on very tight/technical hairpins where you need to pop the rear wheel a bit left or right. Obviously this can be done with flats, but i feel more efficient clipped, i.e. i can maintain my body position, i don't have to readjust to unweight the back wheel as much, and may not have to use the front brake as much, it just all feels more efficient... to me!

Jun 21, 2020 at 4:36
Jun 21, 2020

Jun 20, 2020 at 2:55
Jun 20, 2020
Video: In-Depth Analysis of Flat Pedal Efficiency with the Strength Factory
I was impressed to see how close the test was! I ride a hardtail, and find that i can ride rocky trails faster when clipping in, because regardless of how much the rear 'kicks' i stay connected. I also feel like i can move the rear end of the bike around more and place it on small features to pump the bike or do tighter turns when going slow if I'm clipped in

Selling
Jun 14, 2018 at 14:53
Jun 14, 2018

Oct 25, 2014 at 2:16
Oct 25, 2014
Pinkbike Poll: Mountain Biking - What Should it Cost?
AT my last job we could get trek bikes at trade price, honestly if you saw how much profit shops are making on bikes you'd be shocked, there's three people in the chain - trek (who make their profit), who sell it to a supplier (who make their profit), who sell it to a shop (who make their profit). At my last job we cut out the shop and it was about 50% cheaper for a new bike. I reckon if we were buying direct from manufacturers we'd be paying 33% of the current cost for bikes and parts.

Oct 25, 2014 at 2:05
Oct 25, 2014
Pinkbike Poll: Mountain Biking - What Should it Cost?
It is a shame it is so expensive, it will put a lot of people off MTBing, there could be so many potentially amazing MTBers out there who have not even considered the sport cause it costs at least £1000 ($1500) to get something marginally trail worthy. I think this is something that sports like Parkour, Skateboading and BMXing have over us, access is so much easier and not dictated by your bank balance or socioeconomic status. We are members of a sport where you have to be of the economic elite to be a part of - which isn't really cool. BTW I love MTBing, and ride a lot, but am just being critical.

Jul 31, 2014 at 14:06
Jul 31, 2014

Oct 22, 2012 at 15:31
Oct 22, 2012

Selling
Oct 22, 2012 at 15:14
Oct 22, 2012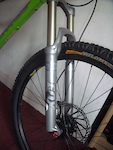 $200 GBP
Hi, I am selling my 32 Floats R 140mm Suspension Forks. The steerer is 1 1/8 and 205mm long and the drop outs are 9mm QR. Stanchions are clean and unmarked (see pictures). Some cosmetic marks to lowers (see pictures) and one mark on the crown from cable rub. Forks are functioning fine, both air pressure adjustment and rebound adjustment working perfectly. I am selling these forks as I am going for a fork with travel adjust. You are welcome to collect, the item is in Cowling, just south of Skipton, in North Yorkshire. If you cannot collect I will send the item by Parcelforce 48 hour delivery, but this will be to UK only. I think I have covered everything, but if you have any queries or questions please do not hesitate to ask. Also message me for my phone number. Thanks for looking, Luca
Load more...