makemymountain
Member since Nov 15, 2012

Online
Male / 37
Reno , Nevada
I love biking and would like to get into the bike industry some day.
Block user
Recent

Nov 12, 2022 at 16:30
Nov 12, 2022

Selling
Nov 12, 2022 at 16:29
Nov 12, 2022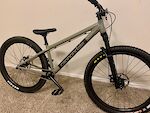 $900 USD
This is an excellent condition Cannondale Dave dirt jumper bike that has only been ridden 3-4 times with no crashes, cases or any big jumps taken on it either, it's practically brand new and the cranks/BB have even been serviced by REI where I purchased it. The frame is in pristine condition, only a minor cosmetic rubbing mark on the lower leg of the fork and a small paint chip on the BB/chainstay yoke. This bike is mostly stock but has some new upgrades to it as well. The front tire upgrade completely changed the way the bike handles in all conditions, it increased grip in the turns and loose terrain significantly, you will be safer on this bike compared to a stock bike hands down. Other parts upgraded are the grips and the brake rotors. I will have the bike professionally packed in a bike box, the buyer pays shipping fees only. I deal through PayPal only and this bike only comes in one size, I purchased it from REI and was one of the last ones that they have made for this calendar year. No lowballs or tire kickers please. Parts List: Frame: Cannondale Dave (one size) Fork: 100m Travel Manitou Circus Expert with 20mm thru axle system Wheels/Hubs: (F) Formula 20x110mm thru-axle / (R) Sealed bearing cassette, 3/8x17mm female bolt Cranks: Cromoly BMX cranks (very durable and long lasting) Chain: Half link BMX chain (very durable and long lasting) Pedals: Metal platform pedals Front Tire: Maxxis IKON EXO casing maxspeed 26 x 2.35' (Upgrade) Rear Tire: Maxxis DTH 26 x 2.3" Brakes: Tekro Cable actuated disc brakes (BRAND NEW NEVER USED!) Rotors: Shimano Ice Tech 160mm Bars: Cannondale 30mm rise Stem: Cannondale 0 degree rise Seat: Cannondale Magic Steel Seat post: Cannondale 27.2 x 200mm Grips: ODI elite lock-on grips (Upgrade) https://www.cannondale.com/en-us/bikes/mountain/trail-bikes/dave/dave

Nov 3, 2022 at 17:23
Nov 3, 2022

Selling
Nov 3, 2022 at 17:22
Nov 3, 2022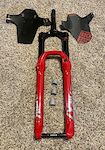 $350 USD
This is a used but great condition 2021 year model Rock Shox Lyrik Ultimate fork for a 29" wheel. This is currently set up as a 170mm fork but I have included the stock 160mm air shaft if you want to lower it for your bike. I have also included 3 extra bottom out tokens (there is currently 1 inside the fork as well). Fork has about 40 hours of riding time on it since it's last servicing. There are some scratches on the lowers and paint rubbing on the underside of the arch from the fender but all it really needs are some new stickers which are about $25 you can get them online and it would look pretty much brand new, I have tried to show all the scratches in the pictures as best I can. I have also included 2 fenders to go on the fork or any fork for that matter. Axle size is 15mm x 110mm boost spacing. I can also include a brake adapter to accommodate a 203mm rotor if you'd like, just let me know! Star nut is already installed for an easy setup and Steer tube is cut to 6 and 6/8th inches. I deal through PayPal or Local pick-up only, buyer pays shipping (about $15-$20 depending). -2021 Rock Shox Lyrik Ultimate fork 170mm w/ Maxle Axle -160mm air spring shaft -3 extra bottom out tokens -2 fenders.

Oct 20, 2022 at 12:28
Oct 20, 2022
Pinkbike Poll: Who Will Win Red Bull Rampage 2022?
We all know Brandon is going to win just for showing up and being the good red bull athlete that he is. So the real question should have been "who will be taking second place at Rampage this year?"....

Sep 28, 2022 at 9:23
Sep 28, 2022

Sep 26, 2022 at 10:36
Sep 26, 2022

Jul 29, 2022 at 19:36
Jul 29, 2022

Selling
Jul 29, 2022 at 19:35
Jul 29, 2022

Jun 5, 2022 at 9:16
Jun 5, 2022
Load more...