matthew10
Member since Jan 21, 2006

Male / 27
Newcastle , United Kingdom
Block user
Recent

Jul 6, 2022 at 15:55
Jul 6, 2022

Jul 6, 2022 at 15:54
Jul 6, 2022

Dec 27, 2021 at 6:38
Dec 27, 2021

Nov 13, 2021 at 5:24
Nov 13, 2021

Aug 9, 2019 at 5:32
Aug 9, 2019

Jul 13, 2019 at 6:40
Jul 13, 2019

Jun 16, 2019 at 9:20
Jun 16, 2019
Final Results and Replay: Slopestyle - Crankworx Innsbruck 2019
5 things we can take away from Crankworx Innsbruck 2019 1. If a rider chooses not to race DH finals or do their 2nd slopestyle run, it's not Pinkbike's fault. 2. Mikaila tried her best but it's clear she wasn't given any direction for the finish line interviews. The questions were awful and there was some awkwardness there for sure. Red Bull help her out if she's going to be in the finish arena at Whistler. 3. Neethling was a great rider but was poor at commentating on the DH. 4. Barrecloth was very smooth interviewing indeed. I hope he's holding the mic in Whistler. 5. Emil and Godziek were robbed.

Jun 16, 2019 at 3:25
Jun 16, 2019

Selling
May 7, 2019 at 15:13
May 7, 2019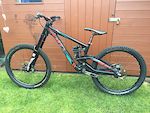 $800 GBP
For sale is my 2014 Scott Gambler that I have owned since 2015. I am the second owner and have kept the bike well maintained in the last 4 years. I all honesty, the bike hasn't had much use in that time and I am selling due to purchasing a new bike. The bike is mechanically sound despite the rub mark on the left fork stanchion, I stress that this has no impact on the forks performance and the wear of the seal on that side. The spec can be seen in the close up photos I have attached, however, I do have a full written spec list if required. As you will see, the bike has a lot of upgrades including the forks, brakes, stem, rear shock and chain guide. I am open to offers and will post within the UK. I am more than happy to answer any questions you may have so do not hesitate to get in touch. Cheers

Selling
May 7, 2019 at 15:02
May 7, 2019
Load more...