mkem
Member since Jul 8, 2006

Female / 32
Squamish , British Columbia
Block user
Recent
May 3, 2022 at 19:06
May 3, 2022
Selling
May 3, 2022 at 19:05
May 3, 2022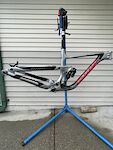 $3000 CAD
Kona Process 134 CR/DL size medium Frame practically brand new with a total of 3 rides. Comes with BB + Shock. Can include 140mm Rockshox Lyrik Ultimate for additional $
Mar 29, 2022 at 18:39
Mar 29, 2022
Mar 29, 2022 at 18:39
Mar 29, 2022
Mar 29, 2022 at 18:38
Mar 29, 2022
Mar 29, 2022 at 18:37
Mar 29, 2022
Mar 29, 2022 at 18:36
Mar 29, 2022
Video: Miranda Miller To Take a Different Approach to Her Riding This Year
Exactly! That's fun in it's own right, but I'm looking forward to getting to know more of the community and culture of the places I visit. I'll be racing the EWS in Innerleithen and have a pretty fun week planned with a TVTA trail day and guest coaching for a kids group...less is more? Thanks for the kind words and support!
Mar 29, 2022 at 18:33
Mar 29, 2022
Video: Miranda Miller To Take a Different Approach to Her Riding This Year
It's true...I grew up in Pemberton but I've never ridden the Chilcotins, for example. I'll still continue to travel albeit less and more locally. I've signed up for 4 EWS this year and I hope to do some local DH between filming and traveling etc. I hope that taking a step back can help my riding and in return, my racing.
Mar 17, 2022 at 19:32
Mar 17, 2022
Selling
Mar 17, 2022 at 19:31
Mar 17, 2022
Load more...