mobilechernobyl
Member since Feb 21, 2000

Male / 33
Littleton , Colorado
Dirty
Block user
Recent

Jun 19, 2020 at 8:09
Jun 19, 2020
Behind the Numbers: Yeti SB140
@atourgates: You've come across a dentist that has a sense of humor? Much much higher likelihood of finding a humorous cardiothoracic surgeon!

Feb 4, 2020 at 19:51
Feb 4, 2020
Motion Instruments Announces 6 Data Analysis Systems
@MotionInstruments: That's some really awesome background info! Thanks for the deep dive. I've done a good bit of work in wireless sensor design and application studies and this type of stuff always crosses my mind so it was nice to hear some more of the back story. Also cool to hear your experience with BLE - some of the more commercial work I've done is with ANT and honestly not very impressed - but we suffered vendor lock-in with that project. Best of luck - I really think you guys are doing the right thing with the modular architecture - I can see future sensors being added rather easily now if you guys cross into other industries like GP/MX/Enduro/Rally/Indy etc!

Feb 4, 2020 at 18:42
Feb 4, 2020
Motion Instruments Announces 6 Data Analysis Systems
How did you guys arrive at 200Hz for linear travel position data sampling rate? Was it an application specific driven value or hardware/wireless protocol driven value? Not challenging the number, just genuinely curious! Thanks and I like the modular approach to this system!

Sep 30, 2019 at 13:14
Sep 30, 2019

Jun 3, 2019 at 10:53
Jun 3, 2019
Nerding Out - Fort William DH World Cup 2019
In the bump charts (line chart summary of top n finishers) - it would be cool to have n starters and n finishers - the holes in the start side leave me wondering who DNF'd or had a crappy sector/split time?

Sep 28, 2018 at 9:51
Sep 28, 2018
Bike Check: Brodie's 2002 8-Ball & the Case for Incremental Improvements
Cool article on an old bike - definitely brings back similar memories! In seeing this tho - I was hoping to see the old bike get ridden on today's trails! It made me think - why doesn't pinkbike do a series (monthly?) where they do a back to back comparison of an old bike vs. a new bike - but to make it interesting to watch, make it a race against the clock. Have a retired pro ride the new bike down the trail and compare times with one of the fastest up and coming racers riding the old bike down the trail - add in some highlights about the (lack of) performance of the old bike with slo-mo corner and rock garden clips and voila! Might be a liability for the young racer's career - but would be fun to watch them try and wrangle the old beasts down the hill!

Sep 4, 2018 at 8:15
Sep 4, 2018

Selling
Sep 4, 2018 at 8:15
Sep 4, 2018

May 20, 2018 at 18:39
May 20, 2018

Selling
May 20, 2018 at 18:30
May 20, 2018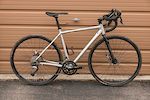 $450 USD
2013 Specialized Tricross Custom – Size 52cm – Custom build This is a custom build based on the 2013 Specialized Tricross Custom bike, in frame size 52 cm. The bike was built to work as a gravel touring bike for a bike packing trip I took in 2016 to Europe. It worked very well but I realized it's about 4-6 cm too small for me and I'm looking to pass it on to a fellow biker that it will fit better. As Built, it weighs 22.8 pounds without pedals. As a touring bike, I customized a few things on the bike, mainly just the gearing to have a wider ratio with only 2 front chain rings. I used a mountain rear cassette with wide spacing, and a mountain rear derailleur with a long length to shift reliably. I ensured that these all mated up to the road shifter/brake levers properly and it shifts flawlessly throughout its entire range. The stock aluminum fork was switched out for a carbon fork that has bosses, which were used for a front rack. The carbon fork absorbs the small chatter bumps nicely. The Avid BB5 disc brakes are nice for touring when the weather is adverse and they have brand new brake pads in them which should last a few thousand miles no problem for the next rider. I put a wider bar on the front, mainly since I'm more of a mountain bike rider – but it does have a nice width and bend for touring. Local buyers to the Golden, CO area can meet up with me to avoid shipping costs. I'd prefer Local buys to avoid tearing this beauty down and stuffing it in a box. Bike doesn't come with pedals - but I can put some plastic ones on it for test/parking lot rides and the buyer can keep them if they choose.
Load more...