ride-dartmoor
Member since Mar 8, 2010

Male / 25
Rocky Mountain House , Alberta
Finished building Dartmoor Two6Player
Block user
Recent

Nov 12, 2013 at 21:28
Nov 12, 2013

Oct 20, 2013 at 15:27
Oct 20, 2013

Selling
Oct 20, 2013 at 15:22
Oct 20, 2013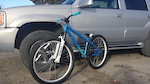 $600 CAD
Selling my 2009 custom kona shonky. Need gone asap so offer me up, just no trades. If you have any questions at all let me know and I'll get back to you asap, easiest way to get ahold of me is by text or call. I can deliver around red deer area in Alberta.

Aug 27, 2013 at 17:37
Aug 27, 2013

Aug 27, 2013 at 12:44
Aug 27, 2013

Selling
Aug 27, 2013 at 12:40
Aug 27, 2013

Selling
Jun 30, 2013 at 18:24
Jun 30, 2013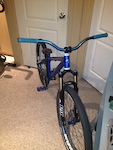 $2000 CAD
I have a 2011 dartmoor 26player for sale that I no longer ride. Looking to get $2000 out of it and I paid around the $3000 to build this beauty. It weighs in around 21.9lbs and the parts are as follows Frame: 2011 dartmoor 26player Fork: 2011 fox 831 Bars: Dartmoor swing high Stem: Dartmoor Funky Wheels: Hope pro 2 laced up to spank tweet evo rims sitting on kenda SB 8's Headset: FSA MX orbit Cranks: Shimano Saint with chromag 35t sprocket Seat/Post: Octane one pivotal Any other questions try and text or call my cell number if possible as im not on PB to much. 403 846 2166 Thanks for checking it out!

Mar 1, 2013 at 23:19
Mar 1, 2013

Selling
Mar 1, 2013 at 23:12
Mar 1, 2013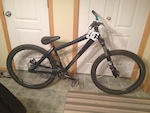 $550 CAD
Before your eyes, is presented a 2008 Rocky Mountain Flow 1. With it is some aftermarket Octane one blue bars, a Answer rove DJ stem white in color, a blue kmc chain, demolition medal pedals, hussefelt cranks. Can switch out to kenda small block 8 tires for $75 extra (brand new) also put on a new dirt jumper 3 fork.

Jan 28, 2013 at 16:26
Jan 28, 2013
Load more...