rwmccon
Member since Nov 2, 2018

Male / 48
North Little Rock , Arkansas
Block user
Recent

Selling
Sep 17, 2020 at 7:50
Sep 17, 2020

Sep 15, 2020 at 6:01
Sep 15, 2020

Selling
Sep 15, 2020 at 6:00
Sep 15, 2020

Sep 13, 2020 at 16:12
Sep 13, 2020

Selling
Sep 13, 2020 at 16:05
Sep 13, 2020
$1600 USD
This is a 2018 S-Works Epic frame and Rock Shox SID fork (100mm) with the Specialized Brain. This bike is size small, and would suit a rider in the 5'2" - 5'7" range I would say. I am 5'8" and can ride it, but it does start feeling small to me. The frame is in good overall condition, though it does have a few scratches as noted in the pictures, and one carbon repair - see details below. The scratches on the top tube are the worst, and they are touched up with black paint, they are paint only, the carbon is fine. I bought this bike when looking for one for my wife. I had been hunting a size small bike for about 6-8 weeks and kept hearing January before pretty much anything would be in stock. So I looked for used bikes and found this. She doesn't need a thoroughbred race bike like this - she is just starting out riding mountain bikes. Well of course a week after buying this I finally found a bike more suited to her with a bit more travel. So I really have no need for this bike and will pass it along to someone else. This bike was raced by it's former owner, a local NICA high school kid, for a couple of seasons. It has some scratches, and one small carbon ding that was professionally repaired. The bike fell over, it wasn't from a crash and when it fell it got a scratch on the carbon. The previous owner had the carbon repaired and the bike was raced for another season and a half. The ding was quite minor and is difficult to see. The scratching on the W on the left side of the frame where it says "S-Works" was worse. I repainted that, though the color is slightly off. I detailed this in the photo as best I can. From a foot away you can't see the faint black area where the carbon was repaired. I have no concerns about the strength of the frame, the kid that rode this was an incredible rider and if it held up to him, it will hold up to about anything. He won a lot of races on this bike. This sale will include the frame/fork/headset/stem/bottom bracket. Everything on the bike is for sale, if you want other parts, or even the whole bike I'm open to that as well.

Aug 4, 2020 at 6:03
Aug 4, 2020

Jan 26, 2020 at 14:49
Jan 26, 2020

Selling
Jan 26, 2020 at 14:42
Jan 26, 2020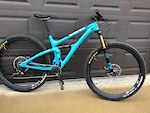 $3400 USD
I bought this frame/fork about six months back from a someone here on Pinkbike thinking I wanted a lower travel bike than the SB5.5 I was riding at the time. Was thinking of doing some more XC racing and thought this would be perfect. I built it up and rode it for a couple of months before realizing that I missed the larger travel a lot. I tend to ride pretty aggressive and fast downhill and missed the extra travel from my 5.5. So I bought a an sb130! And now this lovely sb4.5 has to go. Has been collecting dust the last month or two in the garage. Now that income tax refund season is here I figured it might be a good time to sell it! The bike has a few scratches, mostly in the rear triangle, most were touched up by the previous owner. You can see them in the pics. Overall it's in great shape though, paint is glossy. Frame has had a frame protection clear tape applied on the downtube and some of the rear triangle as well by the previous owner. I bought the rest of the parts to build this bike up, it has Sram Guide RSC brakes front and back, Yeti 780 carbon bars that have been cut down to 760. RaceFace turbine stem completes the cockpit. Sram carbon XX1 170mm cranks mated to a 30t front chainring. The rear derailleur is a SRAM x01. The wheels came from the sb130 I bought and have less than 200 miles on them. They are DT Swiss M1700's with DT hubs. Tires are Maxxis DHF 2.5 front and Aggressor 2.5 rear. The wheels have cush core inserts installed in them as well. Tires are in great shape as you can see. Fox transfer dropper post and a Fox factory 34 front shock round out the build. I would possibly consider a trade for a 52-54 cm gravel bike, or possibly a kids mountain bike. My son is 8 and 49" tall, but would like to get him a better bike with better gearing for climbing hills than the specialized hotrock that he has now. Maybe something with 24" wheels. Willing to ship to the continental US via bikeflights. I have a few bike boxes already. Would take me a few extra days and I would charge $100 as that's about what it will cost me to ship it, but I can do it. Bike is currently located in Maumelle, Arkansas. Just outside of Little Rock. I travel around the state regularly and could meet you somewhere possibly for a serious buyer.

Nov 30, 2019 at 12:52
Nov 30, 2019

Selling
Nov 30, 2019 at 12:49
Nov 30, 2019
Load more...