sacalobra
Member since Oct 20, 2009

Male / 47
Manchester , United Kingdom
Block user
Recent
May 20, 2020 at 9:46
May 20, 2020
Video: Conflict Arises Between 17 Year Old UK Rider & Apparent "Trail Saboteurs"
"we live here". What does that mean? Does that mean she owns the land or does that mean she lives in a bush. A few years back a dog walker blocked me on a trail descent and shoved me backwards ranting. So I engaged him. He told me "bikers coming into my area riding". I said how long have you lived here/were you born here "no I'm from London". I told him I was born and raised over the hill. I'm a Yorkshireman riding Yorkshire trails. It didn't help matters. Just because you rent or borrow money on a house doesn't mean you own anything outside the garden gate. Why are people so selfish?
Selling
May 9, 2020 at 4:22
May 9, 2020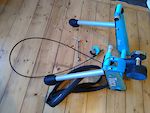 $60 GBP
Tacx turbo trainer with QR and training tyre.
Apr 17, 2020 at 6:52
Apr 17, 2020
Selling
Apr 17, 2020 at 6:46
Apr 17, 2020
Apr 6, 2020 at 11:31
Apr 6, 2020
Apr 5, 2020 at 14:50
Apr 5, 2020
Selling
Apr 5, 2020 at 14:49
Apr 5, 2020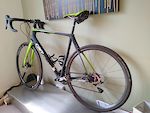 $700 GBP
Full carbon Cannondale Synapse disc 105 size 58cm. In fantastic condition. Stock wheels; rear wheel will need two new spokes. Continental GP4000 tyres in great condition. STI shifts have light scratches otherwise shifts as it should and runs smooth. Bottle cages and pump not included. No offers (any offer received will be ignored). Collect only. I can't post unless you are willing to wait til July...
Mar 22, 2020 at 9:47
Mar 22, 2020
Mar 21, 2020 at 23:27
Mar 21, 2020
How the Coronavirus Lockdown is Affecting European MTB Brands
There's going to be a lot of bikeshops closing who didn't fully embrace online shopping as part of their sales mix sadly. It'll be the massive shift away from face to face sales to online selling. The death of the shop. Even so distribution and delivery will then be massively effected by a lockdown. Everyone's going to suffer. The only upside is sales at the other end. A bitter bookmark.
Mar 20, 2020 at 2:25
Mar 20, 2020
Load more...