samnation
Member since Jul 19, 2006

O+
Male / 32
Kamloops , British Columbia
Block user
Recent

May 8, 2023 at 17:46
May 8, 2023

Selling
May 8, 2023 at 17:40
May 8, 2023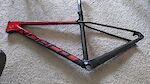 $1500 CAD
I have a 2022 (might be 21) Norco Revolver frame size Large. It was built but never ridden comes with headset and rear axle, also includes brand new Race Race Next seat post. The rear axle is boost. Will ship within Canada, buyer pays.

May 6, 2023 at 15:21
May 6, 2023
17.7 km - 03:40 - 7 achievements

Apr 13, 2023 at 13:12
Apr 13, 2023

Mar 3, 2023 at 8:16
Mar 3, 2023
Throwback Thursday: A Brief History of Direct Mount Derailleurs
It was to set the derailleurs up in the right position relative to the axle. When bikes first got thru axles frame manufacturers were making drop outs look like all kinds of weird science projects. What Shimano did was design something that allowed the derailleur to be far enough from the axle that designers could do whatever they wanted and the derailleur would still be in the right place to preserve b-tension adjustment. A lot of those bikes required you to ram the b tension screw in all the way, then manufacturers figured out drop out design and the direct mount became defunct.

Feb 11, 2023 at 12:29
Feb 11, 2023

Feb 9, 2023 at 17:41
Feb 9, 2023

Selling
Feb 9, 2023 at 17:40
Feb 9, 2023
$50 CAD
Installed but never used, fits 68mm BB88 spindles 129mm length. EA129RD2108030499 is the number on it. Any questions just reach out. Will trade for a 136mm spindle. $50 with no hardware, if you want the bolts for both sides $75
Load more...