wandoolf
Member since Jun 30, 2007

Male / 29
Stroud , United Kingdom
Block user
Recent

Selling
Dec 27, 2020 at 6:10
Dec 27, 2020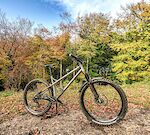 $875 GBP
Kingdom vendetta X2 Limited Edition. Titanium hardcore enduro hardtail. In perfect condition, only owned since August, and its the third version of the frame I've owned as they are that good! Only selling as cannot afford to run multiple bikes :( Comes with headset, seat clamp, BB (although worn, still useable), spare mech hanger, rear axle. Full build pictured to show it in all its beauty, but complete bike not for sale. Can include BB mounted one up chain device for full asking price. Any questions please ask. Pick up preferred, can post at buyers expense.

Selling
Aug 31, 2020 at 10:22
Aug 31, 2020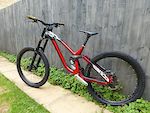 $1750 GBP
NS Fuzz frame Large frame size in the standard settings but with the reach adjust, you're looking at XL geometry in the longer setting. Adjustable reach 466mm +/-8mm Adjustable chainstay 439/454mm Travel either 202mm with short chainstay or 208mm when using the longer setting. 650b. 63° head angle. Helitaped from new. Paints a really deep metallic red and gloss black, photos don't do it any justice! Frame was new in September 2018, directly frame NS. Condition is overall brilliant, there are some small marks and scratches but nothing significant and no dents etc. Much better condition than your average used DH bike not really ridden it as much as I'd like! Rockshox Vivid coil shock on rear. Think its got a 500lb spring on, and I have a spare 450lb spring. 2019 Boxxer RC, debonair, Charger RC damper, newer polished alloy crowns. Hope Tech DH rear wheel. Rims in good condition, small marks but running sweet Hope Fortus 30mm front wheel, almost new condition Hope pro4 hubs. Both wheels running Bontrager G5 tyres setup tubeless, again not very old so great condition. Sram GX DH mech and shifter, 7 speed Brand new Renthal Fat Bar, 30mm rise, 800mm width. Steele industries stem, 45/50mm adjustable length. Saint cranks, polished back to raw alloy. Saint BB. Saint chain guide. Brakes are 203mm rotors, Zee calipers and Shimano 520 levers. Any questions, please ask. Cheers.

Selling
May 16, 2020 at 1:34
May 16, 2020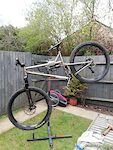 $1600 GBP
Kingdom vendetta XFS Titanium missile in size XL to suit 6ft plus. Designed for 650b and fits 29 inch wheels too, although a little tight on clearance. I have been using it as a 29er for the past 6 months or so. Amazing all round bike, great for enduro, downhill and longer rides. I've done 30 mile loops and last year took it for a week in the bike parks of Morzine! Selling with Cane creek double barrel, which is the best rear shock I have ever used! Will also come with cane creek headset. Pictured is the bike fully built as 29er. For more information and geometry check kingdombike.com Any questions please ask!

Selling
May 30, 2018 at 12:27
May 30, 2018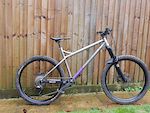 $750 GBP
Kingdom Vendetta LS frame only. Titanium hardcore hardtail in the polished finish. Size is XL, I'm 6'4" for reference. Has full internal cable routing. Comes with the headset. See this link for full info: https://kingdombike.com/collections/hardtails/products/vendetta-2017 There is a small ding on the underside, as can be seen in the pictures, but has been there a long time and in no way affects the frame. THE best hardtail frame there is, at a bargain price! Any questions please ask.

Selling
May 17, 2018 at 9:16
May 17, 2018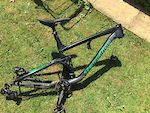 $525 GBP
Extra large transition scout Bought 2016 from noahs ark bike shop In good condition generally, a few small marks as you would expect on a mountainike! Comes with the rock shox monarch debonair rear shock, but not not all the other parts as photographed. Really nice bike with 125mm rear travel, although feels like a lot more, and i've ran it with150mm forks too. The carbon rockguard will come with the frame and has been on there since day 1. Despite this as pictured, there is a small dent which in no way affects the frame. I have ridden it for a long time this way with no problem what so ever. I can slso leave the BB and headset bearings in if required. Any questions please ask!

Selling
Aug 14, 2017 at 7:15
Aug 14, 2017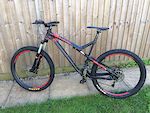 $900 GBP
Commencal Meta Trail. Size XL, suit people 6ft and over. Black and red. In good condition, a few scratches as you'd expect, no dents or anything. 120mm travel front and rear, I did run 150mm forks at one point and it works great! Like new tyres, upgraded burgtec pedals. XT 10 speed with range extender cassette. Dropper post fitted. Great trail/Enduro bike. Any questions please ask! Pick up from near Stroud, Gloucestershire.

Dec 24, 2016 at 6:16
Dec 24, 2016

Selling
Jun 20, 2016 at 1:46
Jun 20, 2016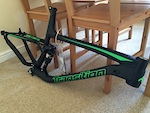 $925 GBP
Very good condition scout frame in black and green, With hope headset and Rock shox rear shock. Had the bike roughly 2 months, so barely used! A couple of small marks to paint, as to be expected. Any questions please ask!

Selling
Jun 16, 2016 at 0:07
Jun 16, 2016

Dec 15, 2015 at 22:20
Dec 15, 2015
Load more...