My name is Jason Trautman; I'm twenty-two years young hailing from the Garden state. Being born and raised in New Jersey has shaped me into a hardworking, caring, and loyal person. Growing up I was always told, "Do what truly makes you happy, and you'll feel like you've never worked a day in your life." Finding happiness has never been the hard part for me. It lies in my fascination with bikes. Since a young age I dabbled in all types of board sports. No matter how much I loved those other sports, I have always come back to the bike as my number one source of happiness.
Going to college and trying to choose a career was really difficult for me. I have never been driven by money or the "Deferred Life Plan." My passion has always been doing creative things that involve expressing myself. Since age thirteen, mountain biking has been that outlet. No matter how hard I tried I couldn't translate my passion for bikes into a typical nine to five job.
Several months ago I decided to stop feeling compelled to live a life I wasn't passionate about and to let my drive pull me towards things I couldn't resist. How often in life can you just drop everything and do what makes you truly happy? In September 2012 I ended up on the other side of the country, living in Seattle with the only person I knew on the west coast at the time. I began to meet helpful people who understood my priorities, and helped steer me in the right direction. I was holding down a full time wrench job that still allowed me ample time to ride. Suddenly my dreams seemed within my reach.
In November 2012, a few buddies and I were invited to go down to San Francisco to participate in AT's Showdown. This was my first chance to really meet some of the elite riders and get a feel for what the slopestlye scene was all about. Fourteen hours after we departed Seattle packed in a Subaru, we arrived just in time for practice on Friday morning.
Arriving in San Francisco was a cool new experience for me. It was a beautiful day as we cruised past the Golden Gate Bridge and Alcatraz Island. Shortly after we pulled up at the venue, we were greeted by the local Cali-Crew who was responsible for building the course. The previous night's rain meant everyone had a shovel in hand working to get the course dialed in.
I was definitely nervous seeing the course for the first time. Everything was MAN-sized, not to mention it was head-to-head, which meant two riders competed side-by-side... slightly more intimidating. After a few runs I felt more comfortable trying to throw a few tricks. Once practice was over the crew made a few small adjustments to the course and it was off to the hotel for some rest.
Saturday was filled with much more excitement! Many of the biggest names in slopestyle were out on the course throwing the craziest combinations of tricks one jump after the next. Seeing this in person really put the level of competition into perspective for me. These athletes train super hard all year for these events. Everything they are doing is completely calculated physically and mentally down to the split second. For me, watching everyone ride the course was just as fun as riding it. Everyone has their own approach to style and tricks. My favorite thing I saw throughout the weekend was Steven Bafus and Cody Gessel transferring the whole course back and forth. Then, Bafus followed up his runs by tricking the transfer line with a tail-whip and a no-foot can during best trick.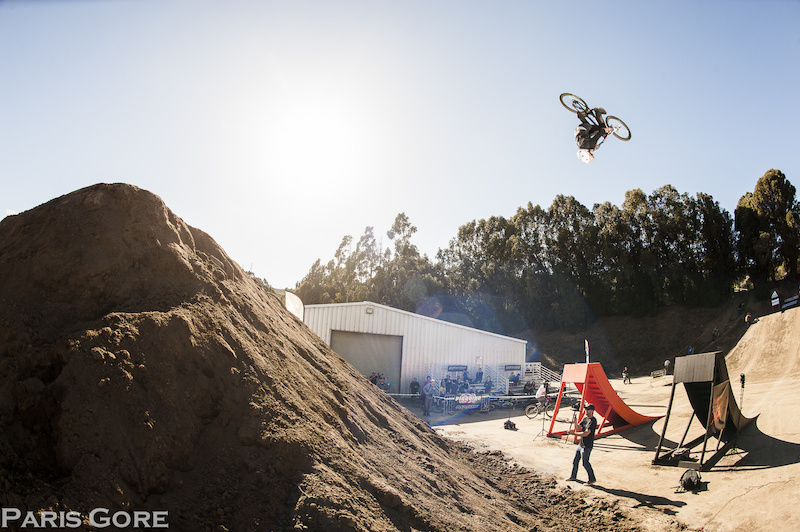 For me, this was the first contest in which I qualified for finals. It was extremely exciting for me to go up against people I've only ever scene on a computer screen. Since the contest was head-to-head we rode next to our opponent and the judges would choose one of the riders to advance to the next round- like a bracket challenge. What better way to have a contest?
Dropping in for finals was a crazy experience. I was paired up with slopestyle phenom Brett Rheeder – a tough draw for round one. While I didn't advance to the next round, I felt I held my own tricking all the jumps right next to one of the top dogs of the FMB World Tour.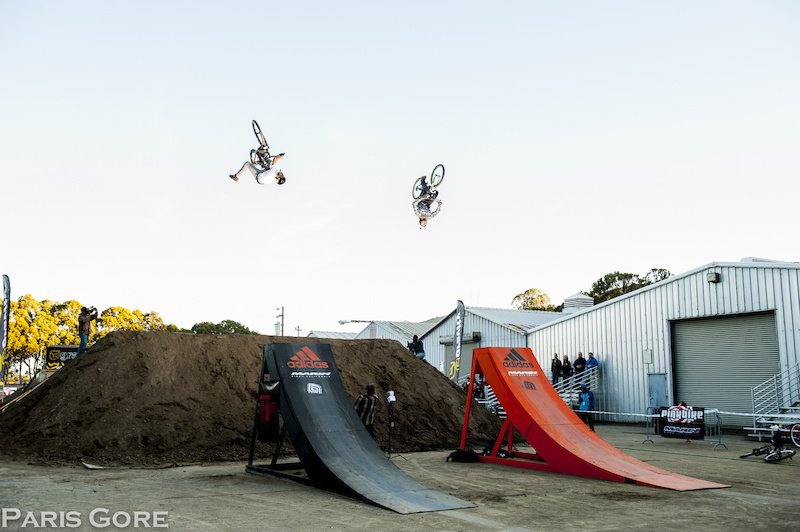 Overall the contest was a great experience for me, I learned a lot about the level of the sport and got the chance meet tons of cool industry people from the athletes to the product vendors. I came home with a fresh list of priorities geared towards taking me to the next level. For 2013 I hope to continue competing and progressing, meeting new people, traveling, and just having ridiculous amounts of fun on my bike. That's what makes me happy and what got me here in the first place, and I plan to ride that wave as long as possible.
**Thanks to All Out Productions for use of their clips in the video.