AbsolutX
Member since Aug 10, 2014

Male
Blianville , Quebec
Block user
Recent

Feb 6, 2020 at 9:41
Feb 6, 2020

Nov 26, 2019 at 12:43
Nov 26, 2019
MIPS Helmets Take Top 4 Spots in Latest Virginia Tech Rankings
@deoreo: There is a link provided by VT ... https://vtechworks.lib.vt.edu/bitstream/handle/10919/83760/Bicycle%20STAR%20Methodology.pdf?sequence=1&isAllowed=y Basically, from what I understand, they give an important value to the rotational velocity (not acceleration) into the rating's calculation. I do agree with most people here, that MIPS may help prevent injuries, but the study is based on football helmet studies : i.e. firmly in place on our head, using chin-strap on an open-face motorcycle-type helmet, hitting the tarmac ... and not a loosely bond helmet on top of hairy heads (well, at least for some of us) hitting dirt and grass.

Aug 22, 2019 at 18:19
Aug 22, 2019

Feb 4, 2018 at 4:47
Feb 4, 2018

Jan 27, 2018 at 8:27
Jan 27, 2018
Pinkbike Poll: Does Bike Weight Matter?
@rezrov: Thanks for bringing this vid to our attention. This said, I don't totally agree with your conclusion. Their best rider did perform better with the lighter bike. Also, from the beginning, they concluded that a surplus of 3 kg weight was negligible to adjust suspension spring rates, which I would tend to question considering the long WB and LR of the Pole for example. In the end, the conclusion should be: "Except for Leon (by far, our best rider), this test proves that, with lighter bikes, we are riding with too much air pressure in our suspension (at least on a DH point of view)."

Jan 17, 2018 at 14:37
Jan 17, 2018
What's the Deal With SRAM's DUB System? More Questions
In fact, product managers were saying: "it doesn't matter, as long as WE don't have to redesign our whole fleet of models. This new dub standard fits within our bike-frames ... excellent." @vernonfelton, you sure SRAM didn't sent you the marketing manager? This guy answered none of your questions ... at least, not in a way an engineer would (aka precise data/answer).

Added 8 photos
Jan 4, 2018 at 7:26
Jan 4, 2018

Selling
Jan 4, 2018 at 7:26
Jan 4, 2018

Selling
Jan 4, 2018 at 7:13
Jan 4, 2018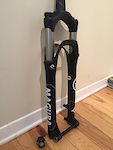 $400 CAD
100 mm travel, tapered steerer tube, 15mm dropout, double arch 29er fork, with brand new eLect cartridge. The eLECT system with acceleration and incline sensors sets the lock-out automatically depending on the riding situation to make sure you are always in the right mode. Can also be controlled manually via optional eLECT Wireless Remote. 40 hours riding battery life, and should the battery runs down, the fork simply operates in open mode.

Mar 1, 2017 at 7:58
Mar 1, 2017
Development Story - Cane Creek's New Helm Fork
Great article Mike … and having CC to share some of the potential design-innovations that were put to test, and the reasons why they never found their way onto the commercial version, adds valuable insights.
Load more...