MSB-27
Member since Mar 1, 2018

Male / 54
München , Germany
Block user
Recent

Apr 9, 2023 at 0:01
Apr 9, 2023

Nov 9, 2022 at 2:23
Nov 9, 2022

Jul 1, 2022 at 3:35
Jul 1, 2022
Hey Pinkbike Staff,,, Would like to submit a serious request here,, American living in Germany and really enjoy using your Buy/Sell platform, BUT!! as of all the Brexit shit etc,, it would be a huge help to people living in Europe if you had a separate platform for UK,,,, dealing with lost, stole, import taxes etc,, it makes no sense to to be a part of "Europe",, they should have their own category for selling,,,, my ,02$.. thanks Mark

Feb 11, 2022 at 0:32
Feb 11, 2022

Feb 7, 2022 at 1:45
Feb 7, 2022

Feb 1, 2022 at 1:04
Feb 1, 2022

Jan 20, 2022 at 8:37
Jan 20, 2022
European Study on Trail Sustainability Gives New Insight on Mountain Biker Motivations, Illegal Trail Use, & More
@bashhard: As a Californian living here in Bavaria for the last 8 years i could not agree more with you!! We have such an issue here with trails because most of our forests here are privately owned, hence the reason we build or ride more illegal trails, or go 45min south into Austria. Its a shame really when you invite friends to ride your secret trails and they want to track it, add it to their TF app or Strava,,,, As cool as these apps may have sounded in the beggining(to some) they really have had a shit storm effect on the Sport... Rant over,,,, Carry on... hahah BTW,,, first comment wins and should be elected PB Comment Regulator!!

Aug 27, 2021 at 3:33
Aug 27, 2021

Selling
Aug 27, 2021 at 3:32
Aug 27, 2021

Selling
Aug 27, 2021 at 3:23
Aug 27, 2021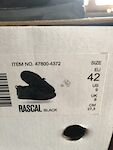 $75 EUR
New never worn size 42
Load more...