MrTeeGiant
Member since Sep 10, 2009

Male / 26
Newbury , United Kingdom
Respect all kinds of riding, but nothing beats going down a hill.
Block user
Recent

Aug 12, 2019 at 11:25
Aug 12, 2019

Selling
Aug 12, 2019 at 11:18
Aug 12, 2019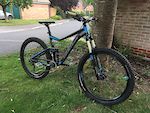 $800 GBP
Owned since new, I'm selling my Giant Trance due to minimal riding over the past year. I bought the bike from my LBS and added a few nice additions that have really made the bike a very capable machine. It's been looked after well - I've completely torn down, cleaned/greased and rebuilt the bike after each winter - and other than the usual wear and tear is in very good working condition. You can find the full specs of the bike from new on the Giant website (https://www.giant-bicycles.com/gb/trance-27dot5-3-2016), but the standout features are: Frame: ALUXX SL-Grade Aluminium, 140mm Maestro Suspension Fork: RockShox Sektor Gold RL Solo Air, 140mm travel Shock: RockShox Monarch R Brakes: Shimano XT (180/160 mm rotors) Tyres: Continental Mountain King 2.4 (w/ inner tubes) Chainring: Renthal 1XR (32t) Handlebar: Renthal FatBar Lite Grips: Renthal Lock-On (Kevlar resin) Stem: Renthal Apex (50 mm) Depending on your riding style, I'd say the large frame size would suit anyone from 5'10" to 6'3" (I'm just over 6'). Feel free to send me a text if you're interested. I am open to offers, but please be sensible! Thanks for looking, Will

Aug 27, 2017 at 8:11
Aug 27, 2017

Selling
Aug 27, 2017 at 8:04
Aug 27, 2017

Selling
Aug 27, 2017 at 8:01
Aug 27, 2017

Selling
Jul 2, 2015 at 11:01
Jul 2, 2015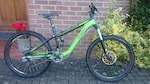 $680 GBP
Selling my beloved Specialized Pitch due to being a student and simply not having enough money to fund other things such as holidays and partying. I'll probably look for another bike at the end of summer but for now it's time to part with what's been by far the best bike I have owned so far. Rapid descender and mountain goat climbing ability, it genuinely is a great all-rounder. Aside from the chips in the paintwork around the back of the frame (which were there when I bought the bike second hand in late 2012), it's just suffered a bit of general wear from the occasional uplift and a few crashes as you would expect. The previous owner decided to sell me the bike with faulty forks so these were replaced in late 2012 with exactly the same specification as before. It'll also have new rear brake pads, with the rear brake also bled. I have serviced the bike myself regularly, so aside from the things mentioned above it runs pretty well. Pedal bearings aren't too great and nor are the rear hub bearings, as they are showing their age a little now. If you have any questions drop me a message on here please. I'll accept any reasonable offers! Thanks, Will Frame: 2011 Specialized Pitch Pro, 150mm Shock: Fox RP2 Fork: RockShox Sektor RL Headset: FSA 1 1/8" Stem: Superstar Zephir Bars: Kore Durox Trail, 740mm Grips: Renthal Lock-On (Kevlar) Brakes: Avid Elixir 5 R SL, 203mm/185mm rotors Derailleur: SRAM X9, 9-speed, mid cage Shifter: SRAM X5 Cassette: Shimano HG30, 9-speed, 11-34t Cranks: Truvativ GXP2 2.1 Chainring: Renthal SR4, 34t Chainguide: Superstar BB: SRAM GXP Pedals: Kona Wheels: Alex Rims doublewall front; SUNringle Single Track rear Hubs: Specialized Hi Lo disc 20mm thru-axle front; Commencal QR rear Tyres: Specialized Eskar Control, 2.3" Seat: SDG Bel Air

Jan 14, 2015 at 15:02
Jan 14, 2015

Sep 28, 2014 at 16:16
Sep 28, 2014

Jul 3, 2014 at 15:07
Jul 3, 2014
Video: BikePark Wales Overtime!
Rode BPW in the pouring rain and haven't had a better time riding since. Awesome trails, great facilities and top notch food in the cafe (although slightly overpriced).

Nov 9, 2013 at 11:46
Nov 9, 2013
Video: Murray Marsh - Seclusion
Those trails look great and to have them right off the back of the house must be amazing! This is my personal opinion, but they aren't really tracks that need a downhill bike. Maybe that's the only bike he has and he goes racing or whatever, but I can't help but feel that a trail/AM bike would be a bit quicker and spice up the video a bit. DH bike looks a bit lethargic here. Nice riding and good video, though!
Load more...