OrionW
Member since Apr 30, 2011

O+
Male
Kirkland , Washington
Block user
Recent

Sep 19, 2018 at 8:35
Sep 19, 2018
Video: Specialized's New Turbo Levo Ad is 'Mind Blowing'
@shinook: yup, loss of access for non e-bikes is my biggest concern. Luckily where I live the land managers have so far been very pragmatic and in general are very pro-mountain bike. I agree many of the concerns raised in the mtb community are pretty alarmist but not all of them. Personally I have generally been ambivalent to allowing pedal assist e-bike access on trails, however I am slowly changing my opinion after having some pretty annoying interactions with e-bikes recently. I have a couple times now been overtaken on uphills single tracks with no warning; it scared the sh!t out of me as they were rolling by at about twice my speed and I was going at a decent pace!

Sep 5, 2018 at 13:19
Sep 5, 2018
Video: Washington's Tiger Mountain Just Got Loamier
@Gvus2001: While I am tempted to let the legend build, I did get some help here and there with PT; especially from Pete Skene. And even now I find that people chip in and put in work to keep the trail running. The name came from recovering from shoulder surgery during the dig. By the end of the dig my left arm was a beast! Edit to say that all of the new trails getting put in by Jay, Matt, Brian, Kevin, Dave, Dale, and everyone else are amazing!

Aug 28, 2018 at 12:00
Aug 28, 2018

Nov 3, 2017 at 12:01
Nov 3, 2017
Don't Punch the Baby - Opinion
Super stoked to hit the local single track on my new e-bike - rider up!!! [https://www.altamotors.co/redshiftmx/#redshift-mx]

Selling
Aug 5, 2017 at 15:11
Aug 5, 2017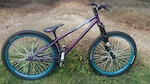 $400 USD
Solid bike with good geo. Needs nothing. Pretty much stock.

Aug 5, 2017 at 15:10
Aug 5, 2017

Selling
Aug 5, 2017 at 14:37
Aug 5, 2017
$1400 USD
2013 Specialized Demo II - all black This bike is super clean and ready for the park. By far the sexiest bike I have owned. Key features: Vivid air rear shock; stock cane creek included. Boxxer rc fork with charger damper New guide brakes -1 degree cane creek angle set Notes: Wheels and tires are in fair condition Set up with a narrow wide; chain guide included Will ship at buyers expense.

Selling
Aug 5, 2017 at 14:33
Aug 5, 2017

Aug 5, 2017 at 12:55
Aug 5, 2017

Feb 23, 2017 at 11:28
Feb 23, 2017
Point: E-Bikes Are Good for the Sport
I am sure e-bikes are fun and who cares if someone is lazy... the two problems I see are: 1) I have no faith that people will self regulate and stay off non-motorized trails with their e-bike. After enough e-bikers get caught on non-motorized trails, we WILL lose trail access because of e-bikes. 2) Blurring the lines between bike and motorcycle will create confusion on what users are okay to ride a given trail. Trails that are currently MTB only WILL start to have actual motorcyles riding them. Hopefully I am wrong but you know I'm not.
Load more...