Stickman1029
Member since Sep 2, 2014

O+
Male
Calgary , Alberta
Block user
Recent

Oct 29, 2023 at 0:02
Oct 29, 2023

Selling
Apr 1, 2023 at 15:28
Apr 1, 2023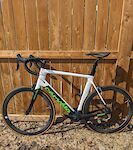 $2000 CAD
58 CM Cervelo S2 carbon road bike for sale. Is in excellent shape and I'm the original owner. Bike has very low miles, goes like heck and has never been raced or crashed. Shimano 105 - 11 speed groupset, add ons include a 50mm Superteams carbon wheelset with Specialized Turbo Cotton tires & a 4iiii Precision power meter. Bike comes as shown in the picture, and I will toss in the original aluminum wheels, a spare set of 25mm tires, the original stem, extra spokes for the carbon wheels, and an extra set of carbon specific brake pads. $2,000, bring cash, and we will be meeting up somewhere in SE Calgary. Looking to sell the bike complete, not just the frame or individual parts. No trades, and lowball offers will be ignored. If you are reading this, it's still available.

Selling
Mar 29, 2023 at 23:37
Mar 29, 2023

Jan 6, 2023 at 22:24
Jan 6, 2023

Jan 3, 2023 at 13:05
Jan 3, 2023

Dec 17, 2022 at 15:29
Dec 17, 2022

Dec 3, 2022 at 1:20
Dec 3, 2022
First Look: The 2023 Giant Reign Gets More Travel, Adjustments, & Storage
In comparison to other manufacturers perhaps. Bike pricing as a whole is out of control. They are going to find out this year that the pandemic is over, and the used market is going to probably be pretty robust, you can already see this starting to take root in the latest Shimano financials.

Dec 3, 2022 at 1:16
Dec 3, 2022

Dec 3, 2022 at 1:15
Dec 3, 2022

Dec 3, 2022 at 1:11
Dec 3, 2022
Load more...