Xyphota
Member since Oct 24, 2013

Male / 27
Calgary , Alberta
Avid cyclist. Third year engineering student as of September 2018.
Block user
Recent

Oct 28, 2022 at 23:04
Oct 28, 2022

Oct 28, 2022 at 16:08
Oct 28, 2022

Oct 27, 2022 at 11:09
Oct 27, 2022

Sep 6, 2022 at 11:58
Sep 6, 2022

Jun 1, 2022 at 12:33
Jun 1, 2022

May 25, 2022 at 13:12
May 25, 2022
Video: Learn How To Wheelie With Legend Danny MacAskill
Does anybody have tips for steering while wheeling? Ironically I am pretty comfortable on a unicycle so the forwards/backwards balance is pretty comfortable, but I cant for the life of me figure out the left/right balance while wheelie-ing a bicycle.

Selling
Feb 27, 2022 at 22:56
Feb 27, 2022

Sep 25, 2021 at 9:06
Sep 25, 2021

Sep 24, 2021 at 11:13
Sep 24, 2021

Selling
Jun 17, 2019 at 13:17
Jun 17, 2019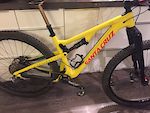 $3200 CAD
For Sale is a 2017 Medium Santa Cruz Tallboy CC. For last couple of months I have been trying to sell this as a frame only, but I have decided that I would rather sell it as a whole bike. Full parts specs will come a bit later but: Drivetrain: Full 11 speed XX1, w/ RaceFace next SL Cranks Fork: 2017 RockShox RS-1 120mm Travel Brakes: Magura MT-8's Wheels: Hope Pro 2's laced to Mavic EN 821 Rims Dropper: 2018 125mm Fox Transfer The bike is in great shape. The XX1 drivetrain, wheels and fork came of a previous bike. The fork hasnt been ridden since it was serviced, and the shock is also brand new as the original one had a warranty issue. The frame, brakes, and dropper post only have a 3-4 rides on them so overall the bike is pretty mint. There are a few small scratches on the frame from my bike rack and shuffling it around in the garage. Due to injury recovery, I have not been able to ride this bike at all this year, and only got a few rides on it last year. The picture of the inside of the wheel well is to show you how low mileage this bike really is. I think this bike deserves a higher asking price, but unfortunately due to recent events I really need some money in my pocket. Open to reasonable offers, but I am going to be firmish on the price. Buyer pays shipping. Will post extra pictures later. UPDATE: I am lowering the price, but putting on a firm tag.
Load more...