Sweet Protection Bearsuit Knees
Sweet are relative newcomers to the mountain bike market, but in their native world of kayaking they have a strong following. The Bearsuit knee encompasses all that a rider should want, with absorbent visco-elastic foam from Sas-Tec in primary impact areas, and with EVA padding in secondary areas. In use by several other manufacturers, Sas-Tec is a product we rate highly. In the construction, Sweet has been careful to ensure that areas susceptible to abrasion (the front and sides) are made from a stretchy, Aramid-reinforced material. A Lycra panel on the rear improves both breathability and flexibility. An inbuilt bend in the pad helps reduce creep when pedaling, as does the single Velcro-adjustable strap sited above the knee. Perforated neoprene panels above and below the joint further prevent slippage. MSRP: €89 (£79, USD TBD)
Sweet Protection
Pinkbike's Take:
| | |
| --- | --- |
| | Individual physiology is going to have an impact on how well a product works for you, especially with something so personal as armour. There was an initial concern that the single strap would prove insufficient to prevent movement when pedaling, but this proved unfounded, as the combination of the pad's anatomical shape and tacky neoprene was so effective. Despite running large sized pads, the strap was noticeably tighter around my leg than ideal - to the point where, by the end of the test, the pads were run without the strap. Good length above and below the knee gives plenty of protection against both abrasion and impacts when wearing shorts, and the low-profile design also works well beneath race pants. We feel that there would be benefit in an extra large size, as my legs definitely aren't the biggest out there, and evidently Sweet agrees, for there is an XL size due to be released soon! Despite the snug sizing they're well thought out pads, which proved comfortable on trail rides despite my normal preference to ride without for reasons of mobility and all-day comfort. With the addition of the larger size to the range, we can definitely recommend Bearsuit Knees. -Alasdair MacLennan |
---
Burgtec Titanium Offset Bushes
Offset bushes may have appeared only recently on the radar of those outside the racing world, but they've been an aid to geometry adjustment on the World Cup circuit for some years. Back in 2010, Marc Beaumont won the Val di Sole World Cup with a set manufactured by Burgtec, which was the first to offer offset bushes to the public. The titanium bushings replace the shock eyelet hardware and the offset mounting hole effectively reduces the eye to eye measurement of your shock. The shorter shock drops the bike through its travel range slightly, slackens the head angle and lowers the bottom bracket (or the same in reverse). Depending upon the bolt size of the eyelets, the bushings can add or subtract one to 1.5 degrees to the head angle and alter the bottom bracket height 5 to 13 millimeters. Burgtec bushes are manufactured from titanium to minimize weight and maximize endurance. Some may bemoan that they're unnecessary, however, Burgtec's offset bushes can be a very useful addition to your tool chest should your bike not have quite the angles or adjustment that you're looking for on an important day. MSRP: $74.99 USD (£46.99)
Burgtec Components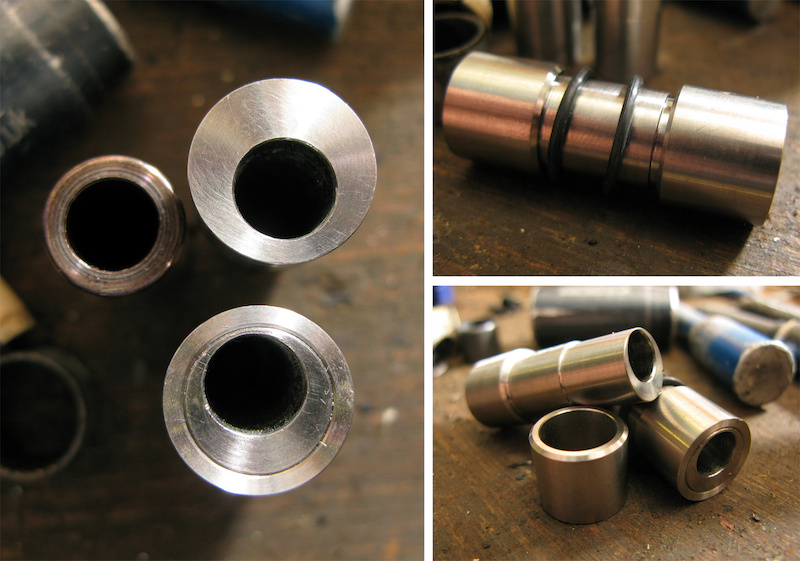 These little pieces of titanium have won World Cups and are a more regular feature on race bikes than you'd perhaps imagine.
Pinkbike's Take:
| | |
| --- | --- |
| | Burgtec were the first to bring the offset shock-eyelet bush to the public and with hard-wearing titanium, and the most accurate manufacturing, they still produce the best we've come across. Fitted to my race bike this season, they dropped the bottom bracket approximately one-half an inch and slackened the head angle. The adjustment created the geometry I wanted, but couldn't get from the standard frame and suspension to bring improved high-speed stability and cornering. As with other Burgtec products, the bushes are born from a racer's needs and that usually means 'function before price.' They're not the cheapest and if you ride just a few times a year, they may not be worth the cost. However, if you're a regular, the longevity and adjustability they offer comes to the fore. Make sure to check that your frame has sufficient rotation and clearance to work with a shock that is effectively four millimeters shorter eye to eye (-2mm per bush). Most models should be OK, but you don't want a dent in your pride and joy because you failed to make a simple measurement. -Alasdair MacLennan |
---
Endura Venturi II PTFE 3/4 Shorts
It's fairly probable that you're reading the title and thinking 'waterproof shorts, what a waste of time.' And if you rarely ride in the cold and wet you'd be right, but in many parts of the world (especially Scotland and the Pacific Northwest) they're a fantastic creation. The sort of weather that soaks you to the skin in seconds, followed by wind-chill as the gales gust around you. A three-quarter-length short, Venturi II shorts come past your knees and end with elastic cuffs, adjustable with Velcro tabs. A fixed belt keeps the waist in place, while a Cordura section between your legs prevents slippage - an improvement over older models which were 100-percent ripstop nylon and would get a little slippery on a wet saddle after a very short period of time. Deep pockets (which are also fully waterproof both on the inner surface and out) enable a phone and car keys to sit comfortably against your leg without banging about on rough sections of trail, and on the rare hot day, it protects against perspiration. The shorts feature a PTFE material that is not only extremely breathable, but highly waterproof too. You need only tumble dry or iron on a medium temperature to restore the 'proofing, rather than resort to special re-proofing sprays. We've done this a few times and on each occasion, despite heavy use, they continue to return to a virtually 'as new' state. MSRP: $159 USD (£100).
Endura Clothing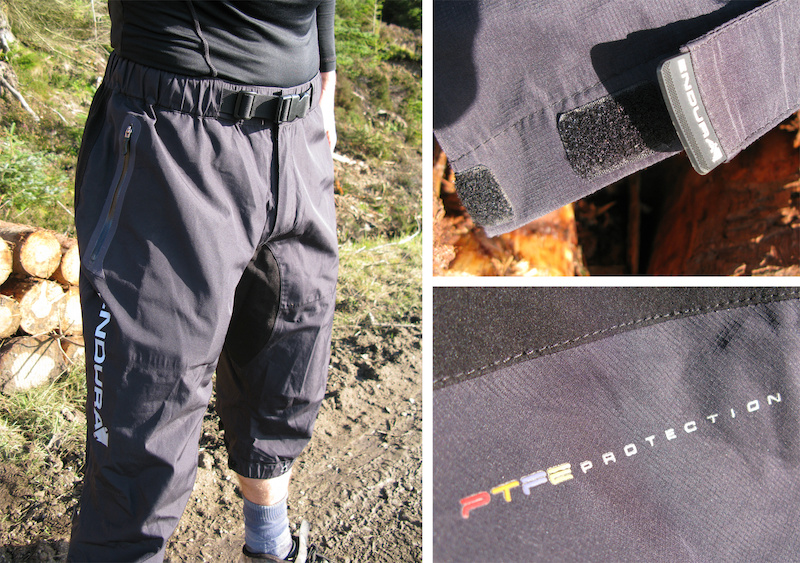 Endura's waterproof shorts might not be considered essential for everyone, but if you ride regularly in inclement weather they're a worthy addition to your kit bag.
Pinkbike's Take:
| | |
| --- | --- |
| | If you live in a part of the world where you never see cold and wet weather then firstly, lucky you. Secondly, you aren't going to appreciate the amount of joy a dry backside can bring when you're out on one of those days, the ones where you dare not stop or slow for fear of hypothermia setting in or turning to a block of ice. For those who do ride in less than stellar conditions, Endura Venturi II PTFE shorts are great to have in your riding bag. Breathable and warm (not to mention dry), they work wonders for improving the enjoyment of a ride in the depths of winter when the trails are soaked to the core. Although worn on a few downhill rides, the knees are a little too tight for anything but the slimmest of knee pads (think 661 Evo pads) to be worn underneath, so Venturi II's are probably best kept to trail riding. At £100 there's also the element at the back of your mind telling you not to ruin them, as you surely would on a gravity bike. There's also no denying that £100 isn't cheap for 'just a pair of shorts,' but as with any waterproofs, good quality costs money. And if that means you ride more as a result, then surely it's worth it. Sir Rannulph Fiennes once said 'There's no such thing as bad weather, only inappropriate clothing'. And you know what? He was right - winter won't stop me from riding, and I can't see myself riding trails in anything else. -Alasdair MacLennan |
---
---