hampsteadbandit
Member since Jul 21, 2004

Male / 49
London , United Kingdom
Block user
Recent

Dec 2, 2021 at 22:36
Dec 2, 2021

Dec 2, 2021 at 22:26
Dec 2, 2021
Burning Question: 7 Brands That Haven't Released an eMTB Yet
Workshop manager for leading global brand. E-bikes have been ongoing headache, majority come back with electrical failure caused by water ingress. Increasing numbers with motor failure. All replaced under warranty, some customers multiple replacement, some choose refund of bike having lots confidence/suffered months of downtime. I'm all for e-bikes being used to replace cars on roads, and to provide the infirm or older riders with ability to keep riding. But seeing young, fit men and women buying e-bikes is really depressing, and has horrible environmental consequences, both in terms of producing powered drivetrain, warranty replacement, and rapid burnout of drivetrain components and brake system. Easily seeing riders destroy drivetrain in 2-3 months - standard MTB components are just not suitable! Very valid case for gearbox, thick chain or belt drive.

Oct 28, 2018 at 0:49
Oct 28, 2018

Selling
Oct 28, 2018 at 0:47
Oct 28, 2018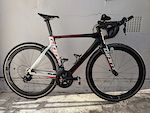 $1340 GBP
2015 Giant Propel Advanced Pro 2 road bike for sale. Small size (will suit man or women 5'5" - 5'9", depending on leg length and torso measurements) Purchased in early 2016 from Giant Docklands bike shop, this bike is in very good condition, professionally maintained, rarely used. This is my wife's bike that was bought and setup for time trial racing, she did 1 race and decided it was not for her! Has been ridden from time to time in Regent's Park London. She has two Giant TCR road bikes, and has decided to sell this Propel as its just gathering dust :( FRAME: Size Small, Colours Comp/White, T700 Advanced-Grade Composite Seatpost: Giant Vector Composite Fork: Pro-Spec, Advanced-Grade Composite, Full-Composite OverDrive 2 Steerer UPGRADED COMPONENTS Handlebar Zipp Service Course SL-70 Ergo 38cm Stem Zipp Service Course SL-OS Stem 80mm Saddle Specialized Power Pro Black/143mm Profile Design T4+Aluminium Aerobars (bartaped and pads still as new, easy to remove and place and as when needed) Will include Shimano R550 SPD-SL Clipless Pedals Shifters: Shimano 5800-105 22 speed Front Derailleur: Shimano 5800-105 Rear Derailleur: Shimano 5800-105 UPGRADED Brakes 2017 Giant SpeedControl SL Ti (compatible with 25c tires) Brake Levers: Shimano 5800-105 Cassette: Shimano 5800-105 11-28 Chain: Shimano 11 speed Crankset: Shimano 5800-105, 52/36, 170mm Bottom Bracket: Shimano, Press Fit Ultegra WHEELS (these wheels used to retail at 1.5k on their own, and are made by DT swiss for Giant. After this model Giant stopped using these wheels on propels as it was not cost efficient for them) Rims: Giant P-SLR 1 Aero WheelSystem Hubs: DT Swiss 240 Ratchet drive for Giant Spokes: DT Swiss Aero Tyres: Vittoria Rubino Pro Speed 700x23 (Front) & 700x25 (Back) Extras, included -RideSense (no need to add the bulky sensors to the wheels or frames, already incorporated and easy to change battery) -Internal cable routing kit -spare barrel adjusters for brakes -K-Edge Garmin Aero Mount for bars London area preferably NW1, can meet buyer, cash on collection. Get in touch....

Sep 19, 2018 at 23:18
Sep 19, 2018

Selling
Sep 19, 2018 at 23:17
Sep 19, 2018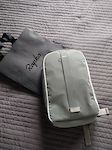 $40 GBP
Rapha Racing, Reflective Backpack BRAND NEW, comes with bag (see photos) Retail price was £90 Selling at £50 including "signed for" delivery to your UK address using Royal Mail Can accept PayPal, get in touch....

Selling
Sep 19, 2018 at 23:13
Sep 19, 2018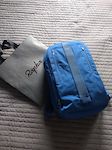 $70 GBP
Rapha Racing Navy Large Backpack Retail price £150, limited edition. Comes with grey bag (see photos) Selling for £90 including "Signed For" delivery with Royal Mail to your UK address can accept PayPal, get in touch....

Sep 17, 2018 at 10:46
Sep 17, 2018

Selling
Sep 17, 2018 at 10:45
Sep 17, 2018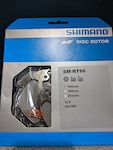 $10 GBP
Shimano disc brake rotor for sale BRAND NEW boxed, unused. SM-RT66 stainless steel, 6-bolt fitting Suitable for resin and metal brake pads Price of £10 includes Royal Mail signed for delivery to your UK address can accept PayPal, get in touch....

Selling
Sep 17, 2018 at 10:36
Sep 17, 2018
Load more...